The Medical Illustration Graduate Program within the College of Allied Health Sciences at Augusta University is one of only three such programs in the country.
To say that the program's mission and service to Georgia are vitally important is an understatement.
Therefore, when the Georgia Rehabilitation Institute, Inc. (GRI) generously granted $65,722 this year to expand the capabilities of the Department of Medical Illustration's medical sculpture lab, Augusta University's Office of Research and the College of Allied Health Sciences wanted to thank GRI's leadership for their significant support.
On April 13, Dennis Skelley, the president and CEO of Georgia Rehabilitation Institute, and members of GRI's board of directors and staff were invited to tour the medical sculpture lab to see, firsthand, the impact of their contribution to Augusta University.
"This generous gift is going to allow us to expand our medical sculpture lab and we're going to be able to have a Carver press, a high-resolution 3D scanner, an injection-molding machine, specialized design software and a large-format 3D printer," said Amanda Behr, an associate professor in the College of Allied Health Sciences' Medical Illustration Graduate Program, who is also a medical illustrator and an anaplastologist at Augusta University. "With all of that capability, I'm excited for the future of medical sculpture and anaplastology training here at Augusta University."
Clinical anaplastologists provide prosthetics for individuals who have lost facial features such as a nose, ear or orbit. They also provide non-weight-bearing prostheses such as breasts and fingers. Currently, there is a tremendous need across the country for training opportunities to increase the number of qualified clinical anaplastologists who provide this form of rehabilitative patient care, Behr explained.
With the grant provided by the GRI, the Department of Medical Illustration will be initiating a course in medical sculpture and anaplastology this summer.
"With this medical sculpture lab, our aim is to advance education and research in medical sculpture and anaplastology. And this space, with your contribution, is going to allow us to provide educational and research opportunities for our students and faculty collaboration on campus," Behr told the GRI board and staff this week. "This lab is going to serve as the demonstration space for the field of anaplastology."
Need for anaplastologists
Before providing the GRI representatives a tour of the medical sculpture lab, Behr thoroughly explained the rarity of anaplastologists throughout the country.
"It's a very tiny field and I'm the only certified anaplastologist in the state of Georgia. In fact, you can fit all of the certified anaplastologists in the country in a broom closet," Behr jokingly said. "There are about 40 certified anaplastologists in the United States and it's a specialty in which we provide care to individuals who've lost facial features such as noses, ears and orbits. And we provide non-weight-bearing prostheses made out of silicone, typically, such as breast, fingers, ears and noses. So, there's a great need for training opportunities."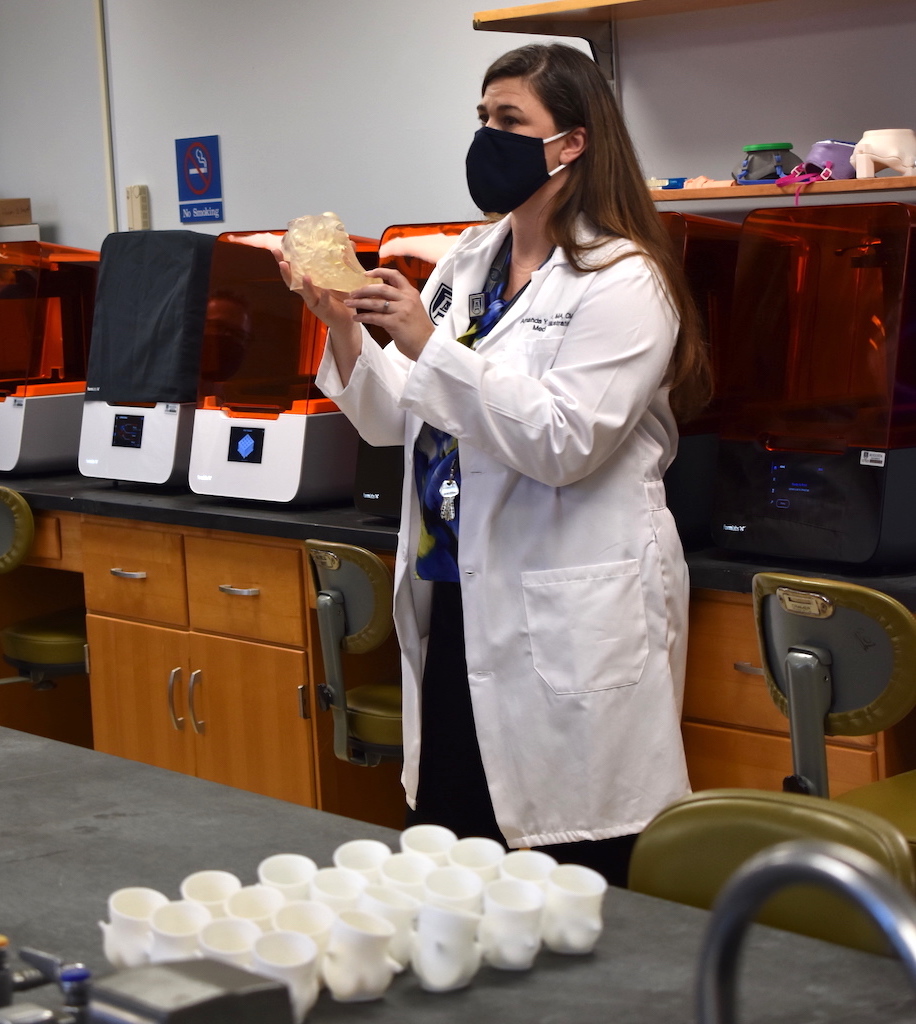 However, there are very few training programs to become a certified anaplastologist in the United States, she said.
"That's why this is so important to provide this education in the state of Georgia," Behr said. "There's an opportunity here to be able to incorporate this training into our program now. So, with this funding, we're excited to be able to offer a medical sculpture course this summer, and then hopefully looking toward creating a Certificate in Anaplastology and Medical Sculpture here at Augusta University."
Behr provided the group with a tour of the medical sculpture lab, which consists of two spaces: a wet-lab sculpture space and an area focused on 3D printing and visualization technology.
The wet-lab space is fitted for sculpting and casting medical models using a variety of materials, including clay, plaster and silicone, while the 3D printing and visualization space was created in collaboration with the Department of Radiology and Imaging and Dr. Michael Winkler, a radiologist who specializes in advanced cardiovascular imaging at Augusta University.
The generosity of GRI
GRI President Dennis Skelley said he was "absolutely blown away" by the work presented by Behr and Winkler and he was thrilled GRI's contribution would be able to help Augusta University provide a new medical sculpture course.
"Georgia Rehabilitation Institute was, once upon a time, more commonly known as Walton Rehabilitation Center, but we sold Walton Rehabilitation and, fortunately, from the proceeds of the sale, we have the opportunity now to make significant contributions to other organizations or agencies that are supportive of disability issues," Skelley said. "And this program is quite fitting in terms of supporting persons with disabilities, so we're excited to be a part in supporting it and supporting Amanda and her mission here at Augusta University."
Over the years, GRI has been a consistent supporter of Augusta University with a $240,000 contribution to stroke research, a $3,000 donation to a student research project in physical therapy supervised by Dr. Valerie Hogan and annual support of the Georgia Rehabilitation Institute Courage and Creativity Grant, which is a scholarship provided to a student who has overcome adversity while pursuing a degree in art and design.
As the group from GRI toured the wet-lab space, they were shown how the lab is fitted for sculpting and casting medical models. Within the 3D printing and visualization space, future students and staff will be able to explore stereolithography or light-cured resin printing and fused deposition modeling (FDM) or filament printing. The space also features a specialized DICOM volumetric visualization system to use patient-specific data to design and print 3D models for surgical and medical simulation.
"What we do in medicine, it's only a small component of health and wellbeing. There's so much more to a person than the way we deconstruct them in medical imaging," Winkler explained. "In our workflow and visualization, we talk about sampling instead of deconstruction, then we talk about reconstruction. What Dr. Behr and I talk about is using a fine art focus. Instead of segmentation, it is sculpture."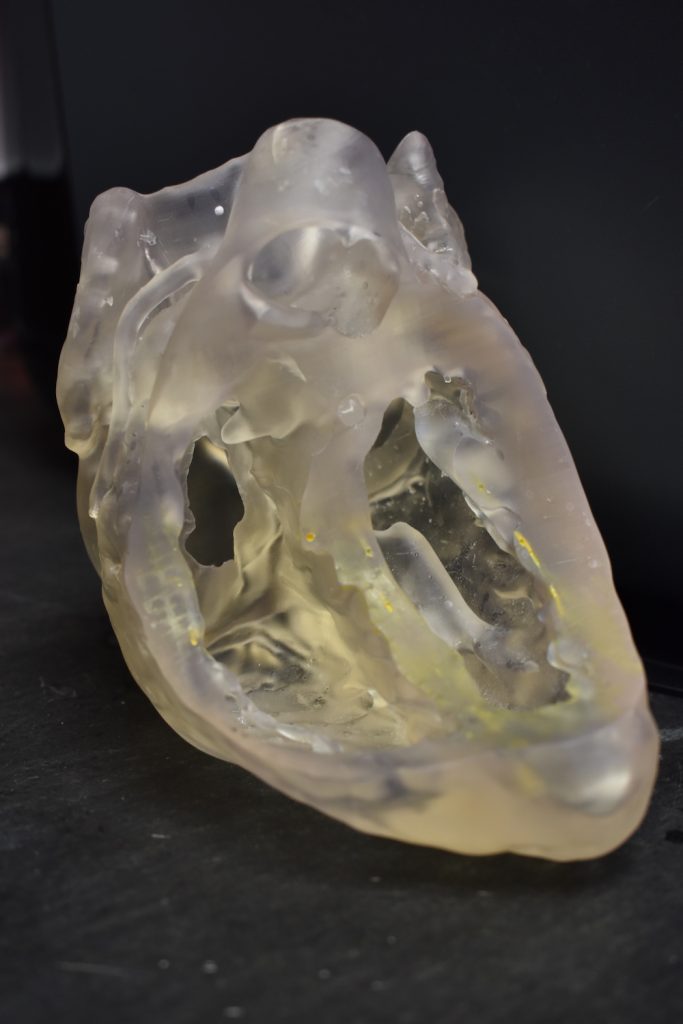 That kind of approach can make a world of difference to patients who have faced difficult health challenges, Winkler said.
"If you can recast medical imaging as an art form and allow patients to possess something that's beautiful to them, that is presented in a way that makes their own body and their own health sacred to them, those patients do better," Winkler said. "It also helps in little ways because it improves their trust in their physicians. It also improves their feeling that the hospital, and the way they're being taken care of, is within a community rather than in an alienating space. We're all a team in improving their health, so that's my goal."
Skelley said Augusta University couldn't have a better team than Winkler and Behr working together in the medical sculpture lab.
"What a gift," Skelley said, after touring the lab. "The combination of a radiologist with Dr. Winkler's interest and passion working with Amanda, who is so determined and dedicated, all in this lab, you really couldn't ask for a better partnership.
"Clearly, our contribution has been well used and I think the board members who were here tonight were very pleased with what they saw and heard."