Enjoy an elaborate evening of young musical talent from the Georgia Regents University orchestra and the school's choral, wind, and the opera and musical theatre ensembles as the GRU Department of Music and Georgia Public Broadcasting present the annual Gala Concert at 7:30 p.m. Thursday, Oct. 8, in the Maxwell Theatre on the Summerville Campus.
A pre-concert reception will be held at 6 p.m. backstage at the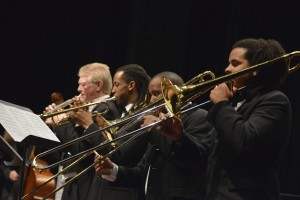 theatre. Tickets for the reception and concert are $20 per person or $35 for two people. Tickets for the concert only are free for
students with a valid ID and $15 for the general public. All proceeds from the event will go toward music scholarships for GRU students.
The Gala Concert is one of three events featured in the institution's Classical Music Concert Series. Other programs include the Wycliffe and Friends Holiday Concert on Dec. 1 and Concerto Competition Winners' Concert scheduled for April 21, 2016.
For more information or to purchase tickets, call the Maxwell Theatre Box Office at 706-667-4100 or visit gru.edu/maxwelltheatre.