Open to the public, the annual GRU Alumni Barbecue and Celebration will be held on Friday, Oct. 9, from 5:30-8:30 p.m. at the D. Douglas Barnard, Jr., Amphitheatre on the Summerville campus.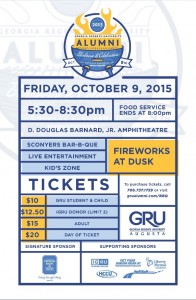 This year's event, which is the culmination of the IGRU campaign, features food by local favorite, Sconyers Bar-B-Que, as well as live music, a Kid's Zone with games and inflatables, followed by fireworks at dusk.
Food service will end at 8 p.m.
President Brooks Keel will be in attendance, so come and show your support!
Get your tickets now, and pay a discounted rate!
Buy your tickets online now at www.grualumni.com/bbq or by