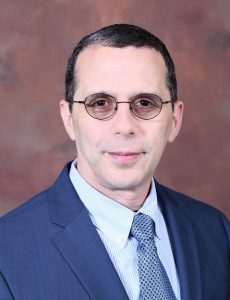 Dr. Rob Foster, professor of music, will play a series of benefit performances on Wednesday, June 21 for those afflicted with Alzheimer's and related illnesses as well as their loved ones.
Foster will dedicate the music to the memory of his father, Col. Herman Foster, and to the friends, family members and medical staff who helped make his final days as comfortable as possible. The elder Foster passed away in September 2015 at the age of 86  from Alzheimer's.
The schedule for each performance can be found below.
10:30 a.m.—1:30 p.m.
Musical Meditations at St. Paul's Episcopal Church
(605 Reynolds St, Augusta, GA 30901)
4:30 p.m.—7:30 p.m.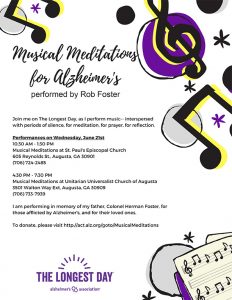 Musical Meditations at Unitarian Universalist Church of Augusta
(3501 Walton Way Ext, Augusta, GA 30909)
"I am joining others around the world and doing what I love to honor people living with Alzheimer's, their caregivers, and those lost to the disease," Foster wrote on his donation page.
Visit Foster's Alzheimer's Association donation page for more information or to make a donation.