Augusta University is co-hosting the annual Tri-College MLK Jr. Celebration from noon to 2 p.m. Jan. 15. The event will be virtual this year, and livestreamed on YouTube and Facebook.
This celebration, hosted annually, serves to honor the legacy of Dr. Martin Luther King Jr. The event is part of Weeks of Welcome and is a collaboration between Paine College, Augusta Technical College and Augusta University.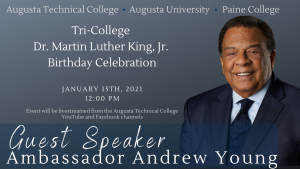 This year's guest speaker is Andrew Young, former United States Ambassador to the United Nations and former mayor of Atlanta. Young was active in the civil rights movement and was a close confidant of Martin Luther King Jr.
In addition to the livestream, Augusta University is offering two service opportunities throughout the month of January to honor the legacy of Dr. King.
Students, faculty and staff can donate hygiene items (toothbrushes, toothpaste, dental floss, deodorant, bandages, feminine products, soap, socks, etc.) from 8 a.m. to 5 p.m. Monday through Friday in the Student Life and Engagement suite on the second floor of the Jaguar Student Activities Center. Collections will be accepted from Monday, Jan. 11 to Wednesday, Jan. 27 and then donated to the community.
Augusta University is also hosting an MLK Day of Service on Jan. 30. The Office of Civic Engagement, a unit of Student Life and Engagement, is partnering with Bridge Ministry of the CSRA to serve meals and pass out blessing bags to those in need. Students interested in volunteering for the MLK Day of Service can email Roberto Aragon.
For more about the livestream, email MSE@augusta.edu or view the preview on YouTube.