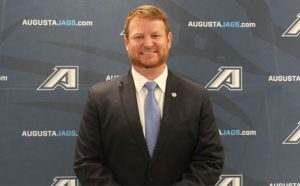 Chris Howell has been chosen to the lead the Augusta University baseball program as the sixth head coach in the history of Jaguar baseball. It was announced by Director of Athletics Clint Bryant on Tuesday, Aug. 2 at a press conference in The Wellness Center on the Health Sciences Campus of the university.
"Chris has all that it takes to be our next head baseball coach at Augusta University. This is a position that he has been preparing for throughout his baseball career," Director of Athletics Clint Bryant said. "He is an exceptional young man and coach who impresses everyone that he encounters. His tremendous leadership abilities will translate not only to success on the field, but to the growth and development of our student-athletes academically and personally. We are excited about him taking over our baseball program and we look forward to the continued improvement of Augusta University baseball under his direction."
Howell spent last season as the assistant coach for the Jaguars and oversaw pitching. During his first year in Augusta, the Jags earned a No. 18 national ranking and a 29-22 overall record – the first winning season for the team since 2008.
Augusta reached their first Peach Belt Conference Tournament appearance since the 2011 season, while two Jaguars were named All-Region Players of the Week and three named PBC Player of the Week.
With Howell overseeing the bullpen, Augusta had the fourth best team earned run average (4.57) in the league and improved it from 6.16 in 2015.
"I am honored, yet humbled to serve as the next head baseball coach at Augusta University," Howell said. "It is my goal to ensure development of student-athletes both academically and athletically. I am committed to this university, team, community and all of Jaguar Nation."
Howell came to Augusta and the CSRA after spending the 2015 season in the Peach Belt as a top assistant at Young Harris College.
In the 2013 and 2014 seasons, Howell enjoyed a stint at Middle Georgia State College as an assistant coach. Howell was the pitching coach and recruiting coordinator for the Knights during those two seasons.
Howell began his coaching career at his alma mater Tiftarea Academy – a private school in Chula, Georgiaa. During his four-year run with the Panthers baseball program, Tiftarea won the 2009 GISA Class AA State Championship and was runner-up the following year. Howell garnered state Coach of the Year accolades in 2009 and Region 3-AA Coach of the Year honors in 2009 and 2010 while at Tiftarea.
A native of Fitzgerald, Ga., Howell was a three-time, all-state and four-time, all-region player at Tiftarea before starting his college career at Pensacola Junior College.
He pitched two years in the Panhandle Conference and furthered his career to the University of Tennessee where he pitched two years for the Vols. His career with the Vols ended strong by helping his team advance to the 2005 College World Series in Omaha, Neb., as a senior.
After college, Howell pitched two years professionally for the Los Angels of Anaheim organization. He earned his bachelor's degree in education from Tennessee and an associate degree from Pensacola.