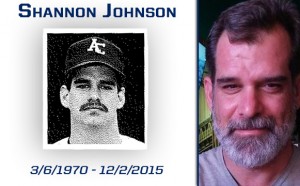 Update: New information about Johnson from Augusta University Athletics
Shannon Johnson, 45, a former Augusta State University baseball player, was one of the 14 killed in last week's tragic shooting in San Bernardino, California. According to Denise Peraza, one of Johnson's co-workers, the native Georgian died saving her life.
In a statement released by her family, Peraza recalled "I will always remember his left arm wrapped around me, holding me as close as possible next to him behind that chair," she said. "Amidst all the chaos, I'll always remember him saying these three words, 'I got you.' I believe I am still here today because of this amazing man. Speaking to the New York Times, Johnson's ex-wife, Tina Johnson, remembered her ex-husband as "a really good man with a big heart."
Johnson, along with 13 of his co-workers, was killed by another co-worker from the San Bernardino Public Health Department last Wednesday.
Johnson's girlfriend, Mandy Pifer, told the New York Post that Johnson "loved the department because he said it was like working in the United Nations."
Services for Shannon Johnson will take place at 11 a.m. Saturday, Dec. 12, at the First Baptist Church in Jesup, Georgia. The ceremony is open to the public. Currently, a close friend of Pifer's is raising money to pay for Johnson's funeral. The fundraiser's GoFundMe page, which met its $35,000 goal within 24 hours, can be found here.