The Roberson sisters — Quishawna, Brianna and Meghan — are creating a legacy at Augusta University that's 15 years in the making.
The three women, like many siblings, went to the same university. But they didn't always have the same university name on their degrees.
The history
Quishawna, the eldest Roberson sister, studied middle grades education in the College of Education at Augusta State University from 2005-2009. Then in 2011, her sister Brianna came to campus as a transfer student, studying accounting in the Hull College of Business.
But during Brianna's second year, in August 2013, Augusta State merged with Georgia Health Sciences University to form Georgia Regents University. Brianna graduated under that institution name in 2015.
Finally, Meghan came to campus (also as a transfer student) in May 2018 to study health services in the College of Allied Health Sciences. But by that time, the university had united under its new consolidated name — a name they would all come to love — Augusta University.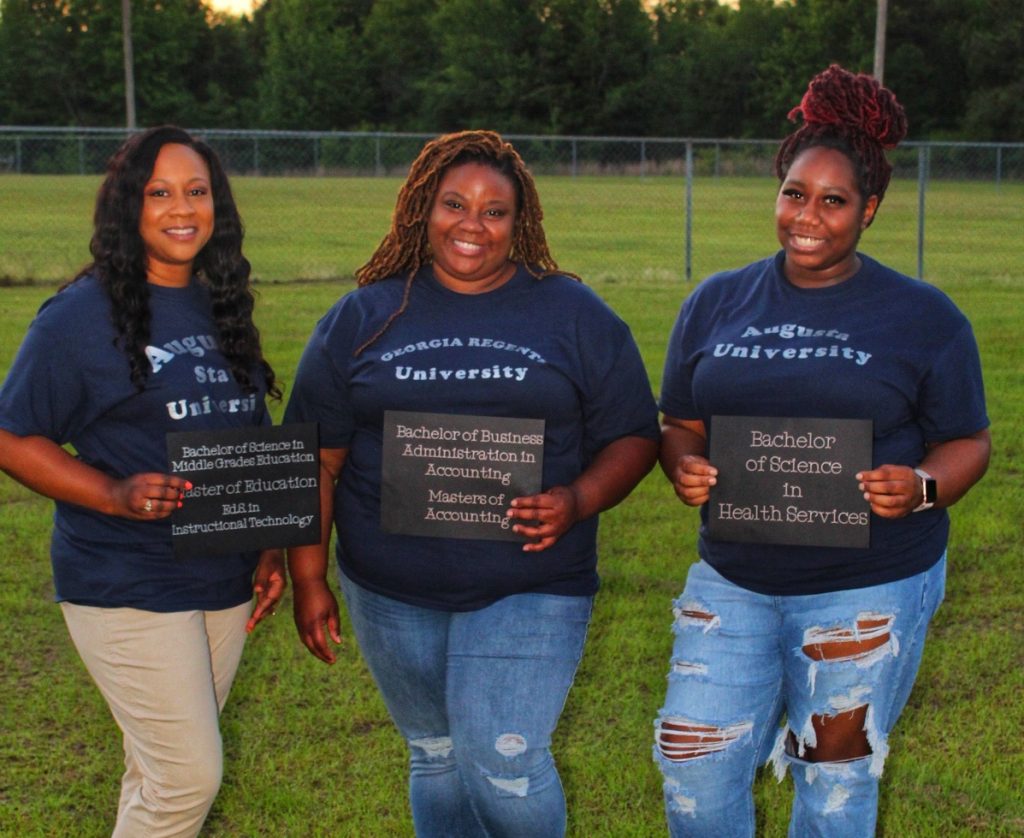 With their degrees in hand, all three sisters have gone on to succeed in three very different fields: Quishawna is a media specialist for the Houston County Board of Education, Brianna owns SoulBean CoffeeHouse in downtown Waynesboro, and Meghan works for Christ Community Dental in Augusta.
Quishawna has been an educator for 13 years and is a two-time alum: She earned her master's degree in curriculum and instruction from Augusta State shortly after her bachelor's degree.
Brianna transferred from another institution after hearing of Quishawna's positive experience. And now that she's graduated, she uses her connections in the College of Business to develop her coffee shop.
"Even though I don't pay tuition anymore, all of our professors are still more than happy to sit down and help me," said Brianna.
"Like Dr. Stacey Roberts: she didn't teach me — she wasn't even a professor when I went to AU — but she helped me create a marketing plan. Then Dr. Simon Medcalfe recently helped me gather up an economic forecast.
"It's nice that I can go back at any point in time to ask questions and get a refresher on my education completely free of charge. AU played a really big part in not just my formal career, but also in helping me start my small business."
Meghan transferred to Augusta University when she realized she wanted to study health care services. She received a job offer from Christ Community Health, a nonprofit offering health and dental care to the underserved communities in Augusta, a month before her December 2020 graduation. She has been working there ever since.
The bond
The three sisters have always had a strong relationship, according to Quishawna.
"Our bond is really close. I am six years older than Bri and 11 years older than Meghan, so I've always felt like the mama to both of them. They're like my little babies," she said.
Brianna even claims her business "wouldn't exist" without her sisters' support.
"My youngest sister [Meghan] actually taught me how to make coffee. I didn't know anything about making it, so I wouldn't have a business if it wasn't for her," she said.
She couldn't run the shop without Quishawna's regular help, too.
"Working seven days a week, some days I'm just super exhausted — so even though Quishawna has two kids and a husband and lives three hours away, she still makes time to come out every other weekend to give me a break from the coffee shop."
Meghan, being the youngest sibling, always looked up to her sisters — and even came to visit them while they were students at the legacy institutions.
"Growing up, I got to see Shawn going to school and even spent some weekends at Augusta. Everyone was always so nice, and college just seemed so great when I was a little kid. So I was like, 'OK, I love this already.' Then when Bri went, I was older by then, so I started meeting people and making connections," she said.
During her many visits to her sisters, Meghan realized Augusta University was a community like no other.
"I just always felt that personal connection every time I came to see my sisters when they lived on campus. It felt so personal, and everyone was always so happy and excited to see them and talk to them. So I thought, 'Why not follow in my sisters' footsteps and be the last one in the tradition?'"
The legacy
To solidify their Jaguar legacy, the sisters decided shortly before Alumni Weekend 2021 to get re-issued degrees, so all of their diplomas will list the same name: Augusta University.
And reflecting on Alumni Weekend, Quishawna is glad her sisters transferred all those years ago.
"Being the big sister, of course I want my sisters to follow in my footsteps. We're the first generation to go to college, so it was very important for me to lay that foundation, for me to set the standard and for my sisters to follow in my footsteps," she said.
"My biggest thing was for them to graduate college — that was the most important thing — but of course, I knew it would really, really touch my heart if they went to Augusta University. Originally both of them chose other colleges. They chose their own path, and then other things led them back to AU, led them back to home."
Quishawna knew from experience that Augusta University offers a life-changing education.
"I knew that AU laid a great foundation for me, and although any college will lay a great foundation as long as you do what you have to do, I knew exactly what AU could do. So I told them what AU had to offer, and seeing them come back meant a lot."
She hopes her own children will continue the legacy.
"My children — of course, I'm not going to ever make them go to a certain college, but we would love to have a next generation come through AU and follow in our footsteps, because we've all done so well so far. And we want to continue that in our family."
Brianna is proud of how far she and her sisters have come — and how through every phase of their lives, they've done it together.
"For all of us to be raised in a small town to go to the same college and graduate, we wanted to share that story to our kids. Hopefully we can show them how much family means, and the importance of education when it comes to going along your journey in life. And always doing things together as a family."