At Augusta University, 17% of all undergraduates identify as a first-generation college student. The number is higher for first-year students at 26%. Some members of the faculty are first-gen students, now making an impact and serving as role models to those they teach.
New Student & Family Transitions at Augusta University supports and celebrates first-generation students all year long, with special recognition during JagFirst: First Generation Celebration Week. Mark Myers, director of New Student & Family Transitions, said this group of students has overcome challenges others may not face when navigating the college experience and there are resources available to them.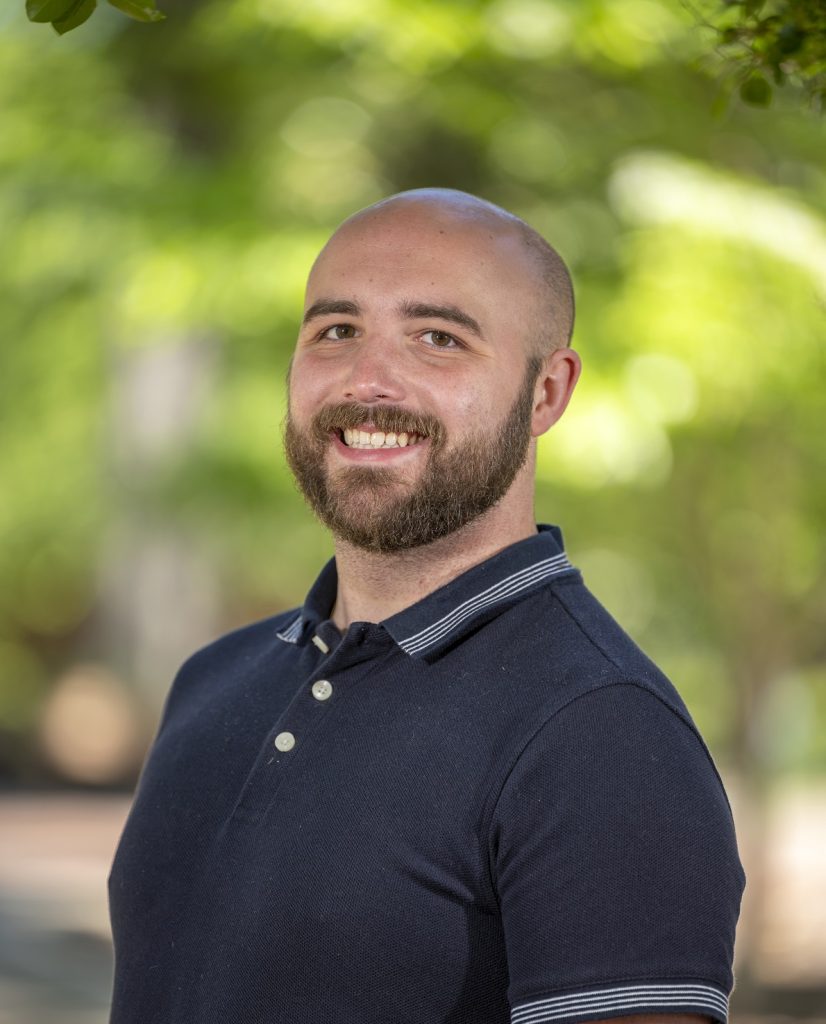 "From our robust academic support to programs that are designed to support students in their transition from wherever they are coming from, Augusta University remains committed to the growth and well-being of our students," said Myers.
"This fall the offices of New Student & Family Transitions, First & Second Year Experiences, and Multicultural Student Engagement have partnered to create programs that celebrate the accomplishments of our first-generation students, and to bring attention to the first-generation faculty and staff from across our campus."
Creating a safe space for students
Reena Patel-Viswanath, PhD, is not only a first-generation college student, but also the first in her family to attend school in the United States. She is now an assistant professor in research counseling curriculum in the College of Education and Human Development.
Her parents emigrated from India in 1981 before she was born. They came to the U.S. speaking very little English, but with a tenacious drive to build a solid foundation for their family. They came to the states before becoming parents to three children as they wanted to provide them with access and opportunity to succeed. Education was the highest priority in the Patel household.
"I would say I met the traditional parental expectations of being a daughter of immigrant parents. I'm proud and fortunate to have a family that supported me going to school, prioritized getting an advanced degree and to give back to my community," Patel-Viswanath said. "I was a bit of a rebel in the sense that I did everything that was expected via cultural norms, but I also kind of opened up the gate for my brother and sister saying 'it's great to go to school, but it's also good to do extracurriculars,' and so that was the cultural breaker."
She knew she was going to go to college but Patel-Viswanath also toyed with the ideas of culinary school, fashion school or even a gap year, while her parents as they wanted her to pursue STEM classes. They were going to support her choices, but also were looking out for her future by prioritizing STEM activities.
"They never said don't do culinary school or fashion school but to consider the long-term investment in STEM related careers. They always said to choose something that is reputable that will allow you to give back to your community in some way, and that will help you be financially well off in the future."
Patel-Viswanath grew up seeing selfless devotion and investment from her parents, so there was no question about going to college too achieve not only her dreams, but theirs.
"There is a great sense of pride, especially for parents of first-generation college students, when they see their children successful and happy."
Being the oldest with a brother and sister, she felt the pressures of being a role model but now invites and loves any opportunity to help them navigate various situations. She still remembers asking herself, "When and how do I apply to college? What is the bursars' office? And how does FAFSA work?"
There's a seven-year gap between the three siblings and since she was the first to go to college they turned to her for advice on navigating the college experience.
She also helped her parents become comfortable with the idea of a child going away to college. Living away from home was a concept she had to explain as the South Asian culture typically encourages women to remain near the family home.
Now at Augusta University, Patel-Viswanath is in a position to give back to the community, a value instilled by her parents. As an assistant professor she said she has the privilege and responsibility to ensure every student succeeds. When she shares the fact she was a first-gen student, some have reached out. Even those who aren't first-gen students recognize the battles she faced and ask for advice.
"It goes back to recognizing and meeting each students' individual needs and acknowledging a real phenomenon known as culture shock, especially historically marginalized students. Yes, first-gen is an invisible identity in the classroom, which I'm very attuned to, but I think there's a lot of crossover with other identities in the classroom as well," she said.
"That's what I find super invigorating and super powerful and impactful is that I can say that I'm first-gen, but there's so much intersectionality with different identities in the classroom that others gravitate toward," she added.
Being empathetic with her students has allowed her to lend a helping hand.
"Demonstrating that I'm empathetic allows students to be more vulnerable and transparent in the classroom," she said. "This is really important if I want to be impactful and really help every student succeed. When students feel comfortable and safe to share their stressors, only then am I able to help them succeed. I value creating that safe space for students so I can really address their needs inside and outside the classroom."
Planning for a variety of careers
Quinton Taylor is a senior studying business administration at the Hull College of Business. He transferred to Augusta University and said he's glad he did.
Taylor said he and his twin brother are the first in the family to go to college and he has big plans for his future.
"I want to own my own business. My father had an LLC, a trucking company, and I want to pick up where he left off," Taylor said.
But that's not all he wants to do, seeing law enforcement in his future. His grandfather was a police officer and another friend was in the FBI. That sparked his interest in the field.
"I want to join the FBI one day, but I want to start at the GBI first, and then go to the FBI. My grandfather told me how business is related to the FBI and I want to do hands-on work and don't want to be behind a desk my whole life. So I want to get hands-on work and still use my degree," added Taylor.
On the side, he'd like to have his own business as well, supplying ATMs and vending machines. He's already thinking ahead since he saw the value of multiple income sources during the pandemic.
Part of that thinking came from high school where he took numerous business and accounting classes. He realized early on it would play a major role in his success.
"I realized this world is a business, like everything we do is a business, so why don't I put my time and effort and get into business?"
Just going to college means a lot to not only Taylor, but his family as well. He and his brother will be the first to get a degree after their mother attended college, but never graduated.
"It means a lot to actually get this far into my degree and my program and just to see the finish line — it means a lot," said Taylor.
He credits his mom for pushing him this far. Even back in middle school, she insisted he would go to college and wanted him to finish at least his bachelor's degree, if not a master's degree as well.
Taylor took it upon himself to find scholarships to help pay for school. When he started looking, he was surprised how much assistance was available. He received a scholarship from the United Negro College Fund – and from Clayton County, where he went to high school, in addition to Georgia's HOPE scholarship.
During his time in Hull College, he said many have made major impacts on his collegiate success.
"The first one is Dr. James Mayes," Taylor said. "He's my academic advisor and he's helped me through a lot in getting my degree. I wanted to make sure I had my stuff right and he was very patient with me and making sure I was doing what I had to do."
"The professor is Dr. Stacy Roberts. She's an amazing teacher. She just helped me so much to stay focused. She would give us assignments and make sure they related to real-world situations."
As Taylor finishes up his degree in the spring, with a solid support system behind him, he feels he's destined to succeed.
"My family is already looking into different resources for me and my brother to start our career. They're helping us a lot and they are really astounded with us getting our degree and are really proud of us."