Margeau Cutter may have just graduated from Augusta University in May 2021 with her Bachelor of Science in Nursing, but she has been working in health care for many years. She recently started her first job as an RN-BSN at AU Health on 5 North Oncology. She also began the Doctorate of Nursing Practice Family Nurse Practitioner program in August.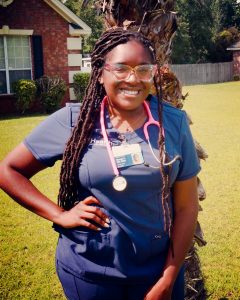 A native of Effingham County just outside of Savannah, Georgia, Cutter learned about Augusta University and the Nursing Scholars Program during her junior year of high school. She was torn between pursuing health care and the culinary arts when her mother, a pediatric nurse, reminded her that she could always go back to cooking. She selected the Health Care Pathway at South Effingham High School and worked her way toward a patient care tech certification prior to graduation.
Cutter had plenty of letters of acceptance, but ultimately decided Augusta University was the best fit because of her acceptance into the Nursing Scholars Program and the layout of the Health Sciences Campus.
"Everything was right here," she said. "And I knew how challenging it is to get into a nursing program, so becoming a nursing scholar alleviated that concern."
Prior to her arrival at Augusta University, Cutter was a patient care technician for a home health and hospice company, working predominately in a retirement community in Hilton Head, South Carolina. She continued that work each summer until the start of the BSN program. During the school year, she worked for the company in their data processing division. Cutter credits her time management skills for the balance she was able to strike with school and work.
The Nursing Scholars Program admits a select group of pre-nursing students directly into the BSN program. Students must adhere to a course progression agreement, maintain a GPA of 3.4 or higher, be active participants in the Pre-Nursing Society and work toward the leadership certificate sponsored by the Augusta University Experiential Learning Program.
Cutter began her collegiate career in the first cohort of the Nursing Scholars Program. Being engaged in the program from the beginning gave her unique insight into the rigor of the program she would join in her junior year, and also helped her gain a support network. "I was able to establish connections with students in the program prior to beginning the BSN core," Cutter said.
These connections remained throughout the program, and Cutter said they are still there as she begins the DNP program.
Cutter said maintaining academic excellence and adjusting her mental approach early on contributed to her success and ease of transitioning into the BSN program.
While Cutter pursues her DNP-FNP, she will work on 5 North Oncology. During the BSN program, she completed a clinical rotation on 5 North and at first was nervous to work in oncology, but she was "so happy to take care of those patients." Cutter's grandmother, her namesake, passed away from ovarian cancer before she was born, so she felt compelled to honor her by working in oncology.
"The patients make me feel so fulfilled."