Lot 10 on the Health Sciences Campus closed May 10 to prepare the site for the construction of the new College of Science and Mathematics building. For anyone who has been displaced by this closure, Parking and Transportation officials recommend you take the following three steps BEFORE your next trip to campus:
Familiarize yourself with all the non-reserved parking lots available on campus and map out a plan for where to park. Be sure to have a backup as well, as the first few days will likely be congested.
Download the Passio GO app on your smart phone to access shuttle stops, routes and the best approach to your destination.
Plan to arrive about 15 to 30 minutes earlier than usual to allow time to find parking and access shuttles (unless you prefer to walk). Shuttles pick up passengers every 8-10 minutes.
Here is a link for Passio GO for iPhones.
Here is a link for Passio GO for Android.
Below are some non-reserved parking lot suggestions and related shuttle information:
Lots 69 & 70
Located on Laney Walker Boulevard between Chaffee Avenue and Druid Park, the gravel lots of 69 and 70 are serviced by the Silver Route (Silver 2) JagExpress shuttles.
The Silver 2 is a newer express Silver route from Lot 69 to stops on Laney Walker and then the Health Sciences Building. From there, Silver 2 follows the route in reverse back to Lot 69. This is one of the quickest routes servicing the Laney Walker side of Augusta University.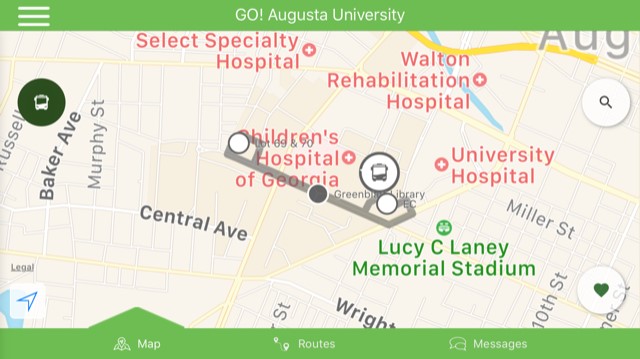 Lots 61, 71 and 71A
The Gold Route shuttle services Lot 61 at Laney Walker High School stadium, which is located just across the railroad tracks from the Georgia Cancer Center on Laney Walker Boulevard at Blount Avenue.
A few blocks away, the Gold Route shuttle also services Lots 71 and 71 A at Antioch Church.  It then travels south to Wrightsboro Rd. to Lot 72 at the Beulah Grove Vision Village before returning to campus at the Dental College of Georgia and the Ed Commons.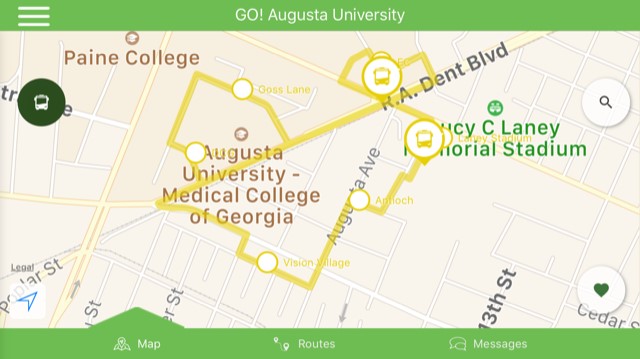 Various other permit parking options include parking at Christenberry Fieldhouse on the Forest Hills Campus, at the cyber deck downtown at the Georgia Cyber Center, and at lots across the Summerville Campus, all of which are serviced by the Blue Route shuttles. To park downtown at the cyber deck, you must complete a separate registration; visit the Parking Office in Annex II for details.
The Parking Office is located at 524 15th St., on the second floor of the Annex II building in room HT-2200. Hours of operation are 7 a.m. – 5 p.m. Monday through Friday.
For more information on shuttle routes and parking, visit the Parking and Transportation web pages, or call the Parking Office at 721-2953.
Please pardon our progress as Augusta University continues to grow Beyond Boundaries.