In addition to Lot 10 closure, brief sewer work will limit Goss Lane traffic for about three weeks
Faculty and staff assigned to Deck 4 parking beside the Wellness Center will need to make plans to enter the Health Sciences campus at John Wesley Gilbert Drive beginning Monday, May 13.
On Saturday, May 11, Goss Lane will become one-way at Deck 4 between Floyd Street and R.A. Dent Street while sewer work is completed to prepare for the construction of the new College of Science and Mathematics building. The traffic pattern is expected to be returned to normal on June 1.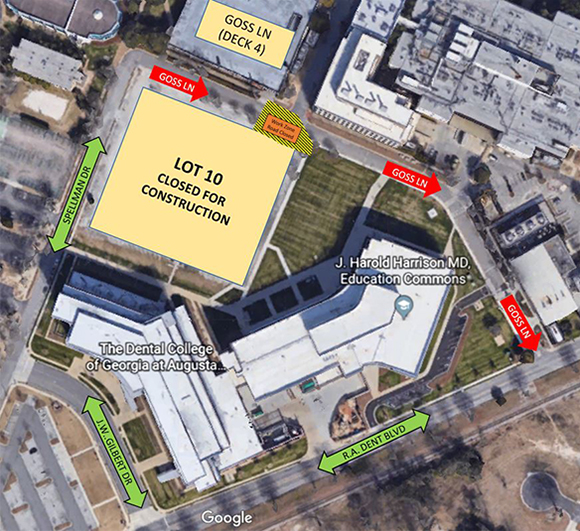 From R.A. Dent Street, Deck 4 parking patrons should to turn onto John Wesley Gilbert Drive and proceed past The Dental College of Georgia building. Then make a right onto Spellman and a right onto Goss Lane in order to enter the parking deck.
For departures, Goss Lane will be open for one-way vehicle traffic exiting onto R.A. Dent.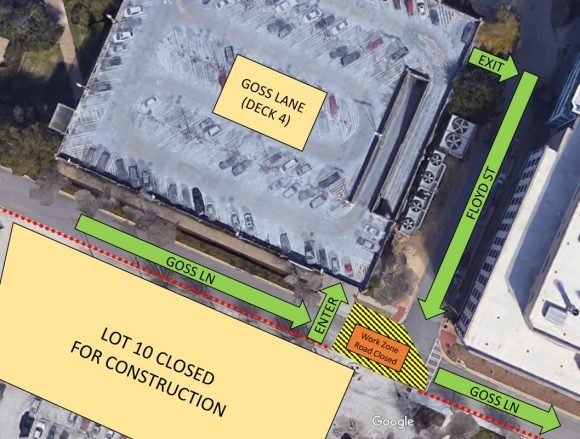 As a reminder, Lot 10 will permanently close at 7 p.m. May 10. If you routinely park in Lot 10, please be sure to remove your vehicle as construction fencing is being installed and heavy machinery brought in to remove parking bumpers to prep the site for the College of Science and Mathematics project.
For more information about the future College of Science and Mathematics, please visit the special "scimath/move" webpage and browse the FAQs and Parking/Transportation information.