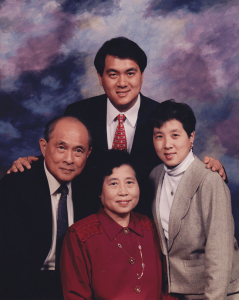 A cancer researcher is determined to take a family's gift and turn it into hope for liver cancer patients. For the family, it's an opportunity to keep the memory of a mother and wife alive for generations to come.
"We were thinking of donating to the lung cancer research, because it's what our mom died from," said Susanne Tsai Young. "During our search, we learned about Dr. Yukai He's research because he goes to the same church as my parents. Although his research is in liver cancer, we feel that if we can make a difference in the search for curing cancer, regardless of what type of cancer, it is all worth it."
Young and her family are making the choice to donate $2,500, in honor of Dr. Jun Fang Liu Tsai, to help Dr. Yukai He, a member of the Cancer Immunology, Inflammation and Tolerance program at the Georgia Cancer Center at Augusta University, establish a fund for his research.
It was a moment of magic when Dr. Nai Tse Tsai, Tsai's husband, and family learned about the work He was doing in his lab at the Georgia Cancer Center at Augusta University. After all, it's not every day that you learn a person sitting in the church pew next to you is looking for the cure to liver cancer. What makes this donation connection even more magical: both He and Young's parents are connected by the Medical College of Georgia.
"With both my mom and dad working and retiring from the Medical College of Georgia (MCG,) we wanted to keep the money in the health system," Young said.
For Dr. Yukai He, a professor in the Department of Medicine at MCG, looking for the next treatment option for liver cancer patients is his life's work. He published his most recent findings in the journal Hepatology in February 2018. His work with immunotherapy treatment opportunities in mice led him to find that certain mouse genes enable human T-cells to attack liver cancer cells specifically.
While He and Tsai's family attended a special Chinese church service together at Warren Baptist Church in Augusta, the family didn't know about the kind of cancer research he was doing. It wasn't until the family started looking for a donation opportunity after Tsai lost her cancer battle in 2015 that they learned the man sitting nearby was looking for the next treatment for liver cancer. It was an opportunity that helped the family move on from Young's mom's battle with cancer, which began back in 2004 on a trip to China.
"It was her classmates who noticed something was wrong with her because mom would get out of breath easily and had a hard time breathing when she walked fast," she said.
The classmate suggested Tsai get tested for a possible heart problem. The testing started shortly after returning to Georgia. Instead of a heart condition, it turned out Tsai had lung cancer. Young said her family's faith played a big role in her mom's treatment and recovery.
"She had a very positive outlook after her diagnosis and we followed her lead and supported her," Young said. "We prayed that God will protect her and heal her. Her faith in God also grew stronger each day, and she was a testimony to many people."
After the diagnosis, Tsai went on to have surgery. One month later, she went back to work at MCG. Young said her mom was determined to not let her cancer keep her from enjoying life. It was a life that lasted 11 years after she was diagnosed. It was a life filled with memories a family will hold onto for the rest of their lives.
"She took painting classes at the University of South Carolina Aiken," she said. "She went on trips with my father, with family. She wanted to live her life to her fullest knowing she was racing against time."
Like the family, He said he is honored to do let his work honor the life of a woman whose story touched so many.
"I still vividly remember the time when sister Jun Fang was with us," He said. "She had been encouraging us to fight cancer personally and reminded us to work hard to help more cancer patients."
He is focused on finding new immunotherapy options for patients living with liver cancer. While Tsai's battle was with lung cancer, He said his discoveries could serve as a framework for future researchers focused on finding a treatment option for lung cancer patients, and the fund will help him translate his bench research into bedside studies.