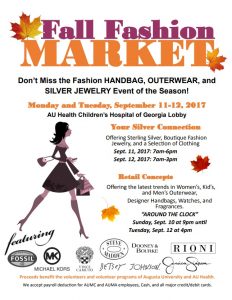 On September 11 and 12, Augusta University's Office of Volunteer Services and Engagement will be hosting a Fall Fashion Market in the lobby of the Children's Hospital of Georgia.
The sale runs from 7 a.m.—6 p.m. on Sept. 11 and from 7 a.m.—3 p.m. on Sept. 12.
Proceeds from the sale benefit Augusta University and AU Health Volunteer programs.
Venders will be selling jewelry, clothing, watches, fragrances and designer handbags.
The sale is open to the public for cash, debit and credit sales, but medical center and Medical Associates employees will have the added opportunity to choose payroll deductions.