Following state-mandated quarantines over the past few months, it's natural to feel a little apprehensive about COVID-19. However, as the fall semester approaches, Augusta University leaders want you to know they are taking tremendous steps toward creating a safe campus reopening.
One department that is leading the charge is Augusta University Facilities Services.
Cleaning and disinfecting
"We have been working hard to prepare and put things in place, and we will continue to help promote a safe and healthy environment," said Ron Booth, VP of Facilities.
"Our primary focus begins with Environmental Services. Our EVS teams routinely sanitize, vacuum, mop, and remove trash. In addition, they are increasing efforts to clean surfaces, particularly in those common areas with high touch points, such as door handles, handrails, bathroom fixtures and vending machines," Booth said.
"We perform standard, daily cleaning. In addition, EVS closely follows all the disinfecting guidelines and techniques recommended by the Centers for Disease Control and Prevention to help protect against COVID-19," Booth said.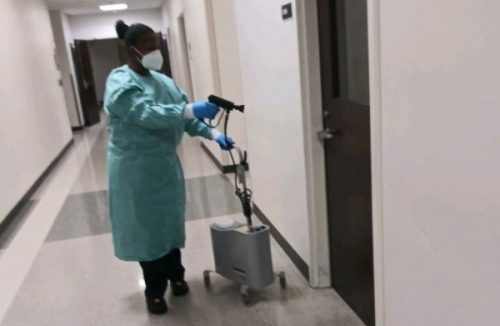 Campus reopening PPE, supplies
Facilities is also leading the effort to supply departments, teams and groups with the appropriate personal protective equipment, or PPE, they may need to help reduce the risk of the COVID-19 virus. These supplies include gloves, hand sanitizer, disinfecting wipes and masks. A special form was created and posted on the Facilities website for PPE requests. In addition, social distancing assessments may be requested through this supply form.
Completed forms should be submitted to wmc@augusta.edu. They are evaluated weekly by a designated committee and must be approved before they can be fulfilled.
Evaluating spaces for social distancing
The Planning, Design and Construction and Facility Operations teams have been steadily evaluating work spaces, classrooms and offices to determine ways to ensure appropriate social distancing among students, faculty and staff in preparation for returning to campuses. In some cases, that may include rearranging furniture or reconfiguring desks and workstations, according to Tom Dunaway, director.
"We also have identified areas with high volumes of customer interactions. For example, our campus dining spaces, where a cashier may be taking money in close proximity to others for an extended period," said Dunaway. "These are places where we may find it necessary to add mitigation measures, such as installing Plexiglas barriers to help limit contact."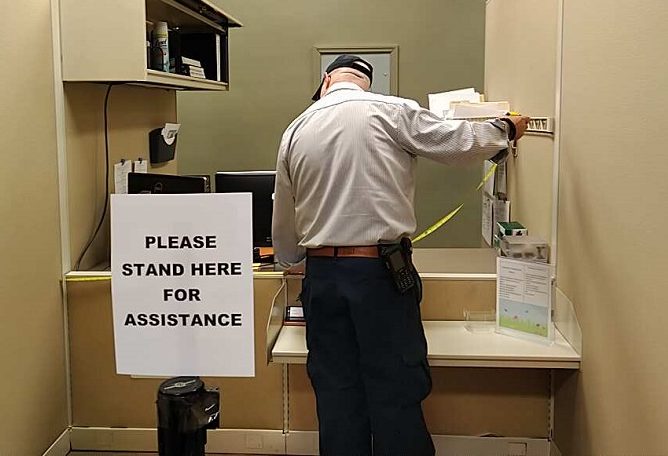 Environmental Health and Safety in labs
While Facilities has been assessing offices, classrooms, conference rooms and larger facility areas, the Environmental Health and Safety Division and Facilities Operations for the university have been involved with safety planning for the teaching and research lab spaces, as well as the reporting of COVID-19 cases on campus.
"The teaching labs do not lend themselves to an approach based solely on student density and social distancing," said Laura Meyer, interim director of Environmental Health and Safety. "Students need to move around the room, work in teams and practice clinical techniques and more. Therefore, we are taking a risk-based approach to our teaching lab spaces."
Facilities and Environmental Health and Safety have been meeting with the various department chairs and faculty members and working through each program at the individual course level to determine the appropriate safety measures for each lab, according to Meyer.
"We start with the appropriate student density and social distancing measures, and then we add personal protective equipment, such as face masks, when instructors need to be in close proximity for a demonstration or students must gather for a group activity." Meyer said.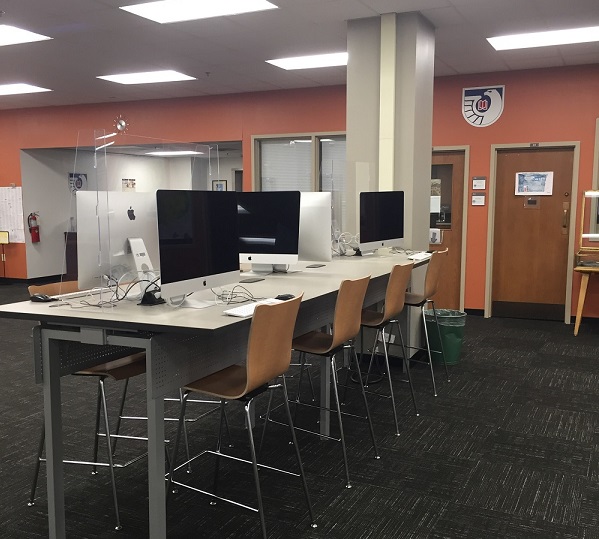 "We also discuss cleaning of shared equipment between users and how the lab spaces will be cleaned between classes. We've worked through this process for the gross anatomy labs at the Medical College of Georgia and The Dental College of Georgia, the allied health programs (OT, PT, PA, RT, etc.), the College of Science and Mathematics (biology, chemistry, etc.) and the College of Nursing."
She noted that the Music Department has a higher risk of illness exposure associated with singing. There are also instruments to consider, like those played by mouth, and the sharing of instruments, like the piano or a keyboard.
"Every college has unique functions that we must identify and plan around to help address and reduce the risk to our students, faculty and staff," said Meyer.
Reporting COVID-19 on campus
As a reminder, please promptly report suspected and confirmed COVID-19 illness at Augusta University to REPORTCOVID@augusta.edu or call 706-721-2663. You may also call this number if you are concerned about a potential exposure and would like guidance on whether to self-isolate or quarantine.
"When a student or employee develops symptoms, he or she must stay home; if they become ill while on campus, they must leave work or class immediately," said Meyer.
Students and employees should report their illness to their professors or supervisors as soon as possible. They also are encouraged to contact their medical care provider for guidance and to call 706-721-1852 for screening and testing options.
Rapid response cleaning
Facilities is part of a rapid response team available to readily clean and remediate areas where a positive case has been diagnosed. To request assistance, please also email these requests to REPORTCOVID@augusta.edu and provide the necessary information to help Facilities more quickly respond. That information should include:
The last date the individual worked
The building/room number/area they worked in
When they received their test result
Identify any other areas that the individual may have occupied to include breakrooms, restrooms, conference rooms, and other shared spaces.
"All this information will assist us in getting a request triaged appropriately," said Aisha Lavin, director of Facilities Business Operations. "Facilities EVS will assess the situation and, using CDC guidelines, will clean and/or disinfect the space with appropriate cleaning materials. This will either be performed in-house by our own EVS technicians or by one of three outside firms that we have contracted with to ensure we can handle these situations swiftly," Lavin said.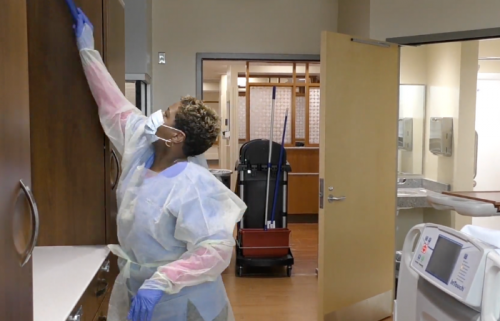 Signs of the new normal
Another key safeguard Facilities is handling is COVID-19 signage throughout buildings, such as high-visibility tape on floors to define six-foot boundaries, circular signs for distancing queue lines and signs on walls and doors stating recommendations on room capacities for appropriate social distancing. These precautions are part of the new normal surrounding prevention of the spread of the pandemic.
"The health, safety and well-being of our students, faculty and staff is of the utmost importance, and Facilities is doing our best to create a safe and healthy environment for everyone to return to when we re-open for fall," Booth said.
If you have any questions, please contact the Facilities Work Management Call Center at 706-721-2434 or Ron Booth, VP of Facilities, at 706-721-3393.
Additionally, the campus reopening website provides a host of news and information about preparations for the return to campus at Augusta University.