New Information: Joining the GRU Jazz Ensemble for this concert will be Wycliffe Gordon, Dr. John Wojcik, Dr. Martin Jones, Dr. Rob Foster, Matt Henderson, and Dr. Howard Rosen, a retired gastroenterologist  and current student
When Grammy Award-winning drummer Dion Parson takes the Maxwell Theatre stage with the GRU Jazz Ensemble for the semester's final Jazz at the G concert at 7:30 p.m. on Thursday, April 16, audience members will experience jazz with a distinctly Caribbean flavor.
"It's more in the rhythm of what I bring," Parson said from his native St. Thomas. "We're going to be improvising, and we're going to be swinging, just with a couple of different rhythms."
Parson and his group, the 21st Century Band, are recognized for their mixture of traditional jazz harmonies fused with Caribbean rhythms, a style known as the "New Sound of the Caribbean," and though Parson will be appearing solo, he'll nevertheless be sharing that sound with the GRU Jazz Ensemble. In return, the ensemble will offer him a couple of island-flavored tunes of their own, courtesy of artist-in-residence Wycliffe Gordon, who's known Parson since the two met in the McDonalds All-American High School Band in 1984.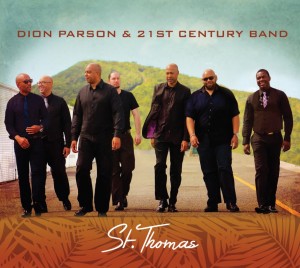 "I came up playing trombone," Parson said. "I always joke that when I heard Wycliffe playing trombone, I switched to drums."
Parson was picked to perform after a conversation between Gordon and 90.7FM GPB-Augusta Station Manager Drew Dawson.
"We talked about wanting to take Jazz at the G beyond just local artists coming in to perform and actually bringing in people who might never have been in the market before," Dawson said. "It's just another contribution Wycliffe is making to the university community by using his extensive contacts in the music business to call in people who would otherwise be out of reach and might not consider performing in this area, never mind arriving a day early to share their knowledge and skills with aspiring musicians."
Parson will conduct a Master Class at 7 p.m. on Wednesday, April 15, in room C1 of the Fine Arts Center on the Summerville Campus. The class is free and open to the general public.
"This is the first time we've tried this in connection with the Jazz at the G," Dawson said. "It's something Wycliffe has been a driving part of in terms of making that educational component an important part of what we're doing here."
After receiving a bachelor's degree in music education and then a master's in jazz performance from Rutgers, Parson moved to New York City, where he's made a name for himself with the quality of his work as well as versatility. Not only does he play traditional jazz and Caribbean jazz, he's also spent time on Broadway playing with the musical "The Color Purple."
In fact, he's going to work that versatility into his Master Class.
"One of the things I'm going to talk about in my workshop is bridging the gap between a jazz musician and playing Caribbean music and other styles of music," he said. "Versatility is the key, and I'm happy for the many musical experiences I've been able to share with all these wonderful musicians out there."
Tickets are $5 for the general public and free for GRU faculty, staff, and students with a valid JagCard.
For additional information: