Dr. Laura Carbone, chief of the Department of Medicine's Division of Rheumatology, and Dr. Carlos Isales, chief of the department's Division of Endocrinology, Diabetes and Metabolism, are the newest J. Harold Harrison, M.D., Distinguished University Chairs at the Medical College of Georgia.
Carbone is the J. Harold Harrison M.D. Distinguished University Chair in Rheumatology. She came to MCG in 2013 from the University of Tennessee Health Science Center, where she directed the Rheumatology Fellowship Program and the Memphis Metabolic Bone Center.
Carbone's clinical and research interests are focused on osteoporosis and related bone diseases. She is principal investigator on a grant from the U.S. Department of Defense looking at how to best diagnose and treat osteoporosis in veterans with spinal cord injuries; a VA Merit Review grant to determine best practices for managing fractures in patients with a spinal cord injury; and a Rheumatology Research Foundation grant examining the association of niacin with non-melanoma skin cancer and osteoporosis in patients with rheumatoid arthritis.
She serves on the U.S. Department of Veterans Affairs Health Services Research and Development Grant Review Committee, the Rheumatology Research Foundation's Grant Review Committee and the Data and Safety Monitoring Board for National Institutes of Health studies.
Carbone has coauthored over 100 peer reviewed journal publications, trained more than two dozen rheumatology fellows, and holds a patent for a method she developed to treat systemic sclerosis and related fibrotic diseases.
She is a member of the Alpha Omega Alpha Medical Honor Society and councilor for the MCG Chapter of Alpha Omega Alpha. She is a member and fellow of the American College of Physicians.
Carbone earned her medical degree from the Medical College of Wisconsin and completed an internal medicine residency at the Mayo Clinic in Rochester, Minnesota. She trained as a rheumatology fellow at Robert Wood Johnson University and the University of Tennessee Health Science Center. She also earned a master's degree in epidemiology from the University of Tennessee. She is board certified in internal medicine, rheumatology, hospice and palliative care and addiction medicine.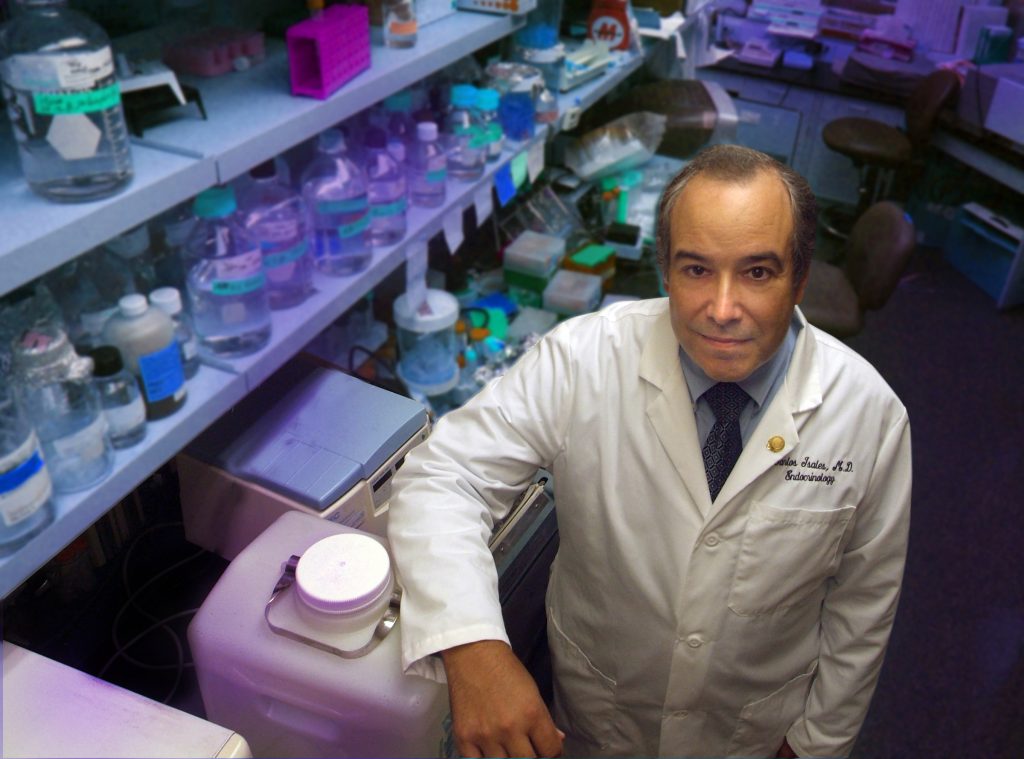 Isales, a Regents' Professor and a physician-scientist specializing in bone health, regenerative medicine and healthy aging, is the J. Harold Harrison M.D. Distinguished University Chair in Healthy Aging.  He also is vice chair of the MCG Department of Neuroscience and Regenerative Medicine. He and Dr. Mark Hamrick, bone biologist in the MCG Department of Cellular Biology and Anatomy, also were recently named co-directors of MCG's new Center for Healthy Aging, which is working to provide a comprehensive approach to patient care and science that enables aging Americans to maintain or regain their independence.
A faculty member for 25 years, Isales is principal investigator on an $11.1 million program project grant from the NIH that seeks to help aging mesenchymal stem cells remain focused on making healthy bone and muscle.
Nationally, Isales has chaired and participated in numerous NIH Study Sections on aging and bone health, including the National Institute on Aging Study Section for Early Medical/Surgical Specialists' Transition to Aging Research, which seeks to provide support for early career physician-scientists and dentist-scientists to launch careers as future leaders in aging- or geriatric-focused research. In January, he chaired the NIA's Special Emphasis Panel on Collaborative Muscles and Aging Study. He has chaired the Veterans Affairs Merit Review Study Section Endo B, which reviews grant applications for bone research, since 2016. He also serves on an NIH study section that reviews applications for status as a Claude D. Pepper Older Americans Independence Center, a federal status he wants to eventually pursue for the MCG Center for Healthy Aging.
Isales is an academic editor for PLOS One and a member of the editorial board of the Journal of Bone and Mineral Research. He has authored or co-authored over 150 peer-reviewed manuscripts and 27 chapters or reviews.
He is a 1982 graduate of the University of Puerto Rico School of Medicine, completed an internal medicine residency at San Juan Veterans Hospital in Puerto Rico and an endocrinology and metabolism fellowship at Yale University School of Medicine.
Isales also has served as associate director of the Institute of Molecular Medicine and Genetics and co-director of the Institute for Reparative and Regenerative Medicine.
The Harrison Distinguished University Chairs in Rheumatology and Healthy Aging are two of 10 endowed chairs being established at Georgia's public medical school through a $66 million gift by the late, renowned vascular surgeon and 1948 MCG graduate and his wife, Sue.