Though it shut down the Augusta University community just six months after she was named chief diversity officer, Dr. Tiffany Townsend did not let the coronavirus pandemic slow her mission to find ways to bring diversity and inclusion to campus.
One of the first things Townsend did after taking the position in September 2019 was to embark on a listening tour. She met with more than 110 faculty, staff and students and interviewed them one-on-one to identify their concerns.
It became very evident that students needed more voice in this area, Townsend said.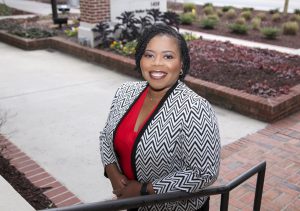 That was one of several themes that emerged during the tour that Townsend will use to develop a strategic plan. She also formed a steering committee — her thought leaders — to help her think strategically about how to promote diversity and inclusion.
"They've been selected to help me think through what to do first, how best to do it and when to do it," she said.
The first meeting of the steering committee was held virtually May 1 on Microsoft Teams, where Townsend explained the organizational structure of the Office of Diversity and Inclusion and requested support in developing the strategic plan.
Townsend said she has several goals for fiscal year 2021, the first being to develop a centralized, focused plan. Because her position had been vacant, and before that there had been several other leaders with different strategies, smaller diversity offices had popped up in different colleges.
"It's very decentralized and the work has been very siloed," she said.
One of the first initiatives will be to coordinate those efforts and make them more efficient.
The Council of Equity Leaders, formerly the Diversity Alignment Committee, will help implement the initiatives developed by the steering committee, Townsend said.
She plans to revamp the Office of Diversity and Inclusion website to create not just a means to communicate events and announcements, but also a resource for the community, with links to trainings, topics and information related to diversity, equity and inclusion.
"We'll try to highlight the work of the faculty, students and staff on our campus that are doing this work so that folks know what's going on," she said. "We'll highlight that work on our website."
Another plan to highlight diversity on campus is the Washington Initiative, which is a partnership between Augusta University, The Lucy Craft Laney Museum of Black History and Paine College to honor Drs. Justine and Isaiah Washington. An event will be held in the fall chronicling the couple's work in the community and will feature speakers and the dedication of two legacy quilts.
"For me, this is the beginning, I hope, of a long relationship in which we can start to highlight the rich stories that we have in our AU history," Townsend said.
Townsend and her council have just released several small grants programs that will help support the development of faculty, students and staff. Among them is a research grant to provide seed funding for faculty whose work focuses on current diversity, equity and inclusion research; a faculty development grant that can be used to support activities that enhance career or research development; and a travel grant to help defray costs associated with attending and presenting research at a professional conference.
During her listening tour, Townsend found that many faculty, staff and students did not know where to go to report bias incidents, particularly if it related to racial bias, Townsend said.
"We're developing a reporting system where faculty, staff and students can report incidents in which they felt like they've experienced bias. It can be any form of bias," she said. "We will use that to collect information to help identify patterns."
Data from this effort will also help the Office of Diversity and Inclusion learn where there may be weak spots and identify areas that may need additional work.
Townsend said a key piece of the strategic plan is developing a process of restorative practices to facilitate healing after some of these incidents occur by establishing a response team, which she has termed TRUST — Tolerance Reformation and Unity Support Team.
This team will be trained to respond to bias and microaggressions and use restorative practices to resolve the incident. Reports will be tracked and analyzed for patterns, which will be used to develop trainings and outreach programs to foster a more welcoming environment.
"What happens when these incidents occur is there is a break in relationship," she said. "If we're going to have a campus in which these incidents are less likely to happen, we have to make sure we heal our community relationships so there's less fertile ground for those incidents to grow."
To hear more from Townsend, listen to 'Standing up for anti-racism' episode of In the Wild podcast.