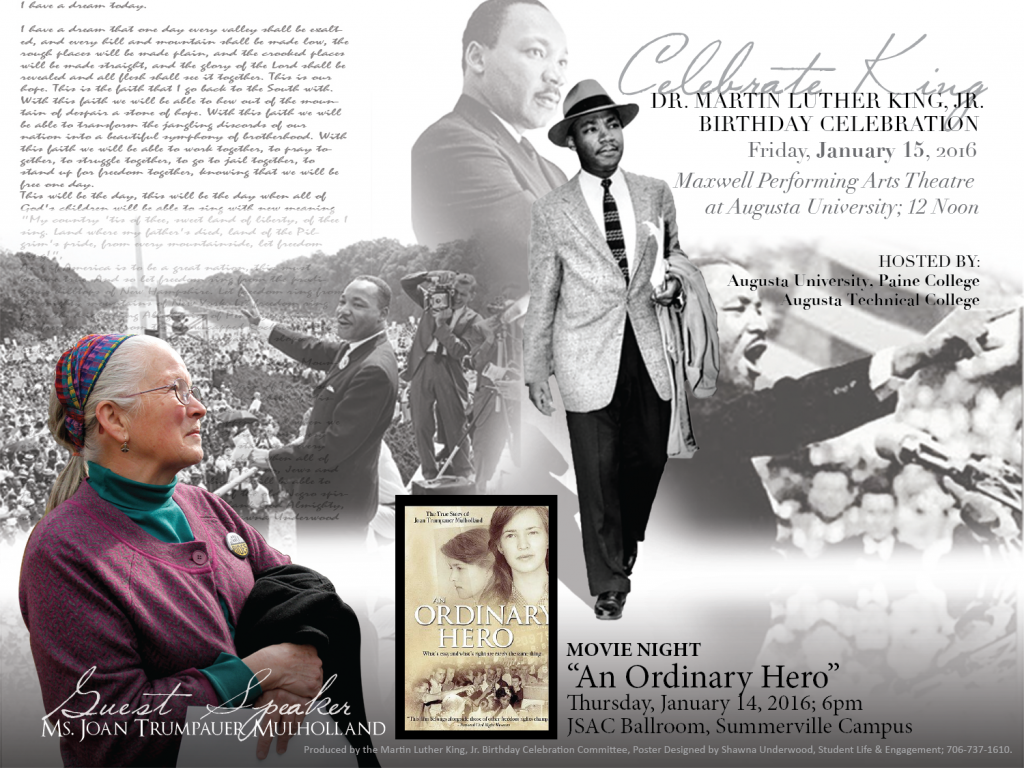 Each year, Augusta University, Augusta Technical College and Paine College come together to celebrate the life and work of Rev. Dr. Martin Luther, King, Jr. Through this celebration, the institutions encourage the community to reflect upon the teachings of Dr. King and his work for peace and equal rights for all people throughout the world.
This year, Augusta University will host the event on the Summerville Campus at the Grover C. Maxwell Performing Arts Theatre. The celebration will occur Friday, January 15th, at 12 noon. Legendary Civil Rights activists Ms. Joan Trumpauer Mulholland will serve as the keynote speaker. By the time she was 19 years old, Mulholland participated in over three dozen sit-ins and protests.
A livestream of this presentation will be aired in the Lee Auditorium on the Health Sciences Campus.
Mullholland was put on death row in Mississippi's notorious Parchman Penitentiary with other Freedom Riders. For her actions, she was disowned by her family, attacked, shot at, cursed at and hunted down by the Ku Klux Klan for execution. Her path has crossed with some of the biggest names in the Civil Rights Movement: Dr. Martin Luther King, Jr. Medgar Evers, Fannie Lou Hamer, Robert F. Kennedy, John Lewis, Diane Nash, John Salter, and Harry Belafonte — to name a few. Mulholland's courage and fortitude are documented in several books, including Growing up in Mississippi, Breach of Peace and We Shall Not Be Moved. Her story is highlighted in award-winning documentaries, including An Ordinary Hero, which we be screened free of charge at 6 p.m. on Thursday, Jan. 14, in the Jaguar Student Activities Center Ballroom. Mullholland will share remarks and greet the audience.
Free of Charge – Open to the Community