Danielle Shelton, a recent graduate of Augusta University, said she found her voice and strength in the Bachelor of Social Work program in Pamplin College of Arts, Humanities, and Social Sciences.
"I struggled throughout school. In fact, I actually had a form of dyslexia, and I couldn't read until I was 12," Shelton said. "When I was very young in elementary school, teachers were like, 'She'll be lucky to graduate high school.' That's something that I internalized a lot growing up, that I just wasn't capable and I wasn't smart enough to do it."
Shelton, who is now pursuing her master's degree at the University of Georgia, graduated from Augusta University with honors.
"I have found that most people who are in the social work field have had experiences in their life that have made them see the structural and systemic inequalities we have in our society," Shelton said. "For me, that was becoming a single parent at 29 and having to start all over again. I've always been really passionate about social justice and economic justice."
Shelton said she was determined to receive her bachelor's degree at Augusta University to show her son the value of an education. She is now commuting to the University of Georgia several times a week for the next 11 months to receive her master's degree.
"I will be the first to say that I was a non-traditional student," Shelton said. "And neither of my parents are college graduates. In fact, I actually started my college journey at Georgia Military College. I did it all online because I was working full-time, and I have a teenage son at home."
"I chose Augusta University because they have an accredited social work program," she added. "My mother-in-law worked at the university and was like, 'You've got to go here. You've got to have that in-person experience.' And she was right."
Augusta University's Bachelor of Social Work program recently learned it will be reaccredited by the Council on Social Work Education (CSWE) for the next eight years, said William Hatcher, PhD, chair of the Department of Social Sciences.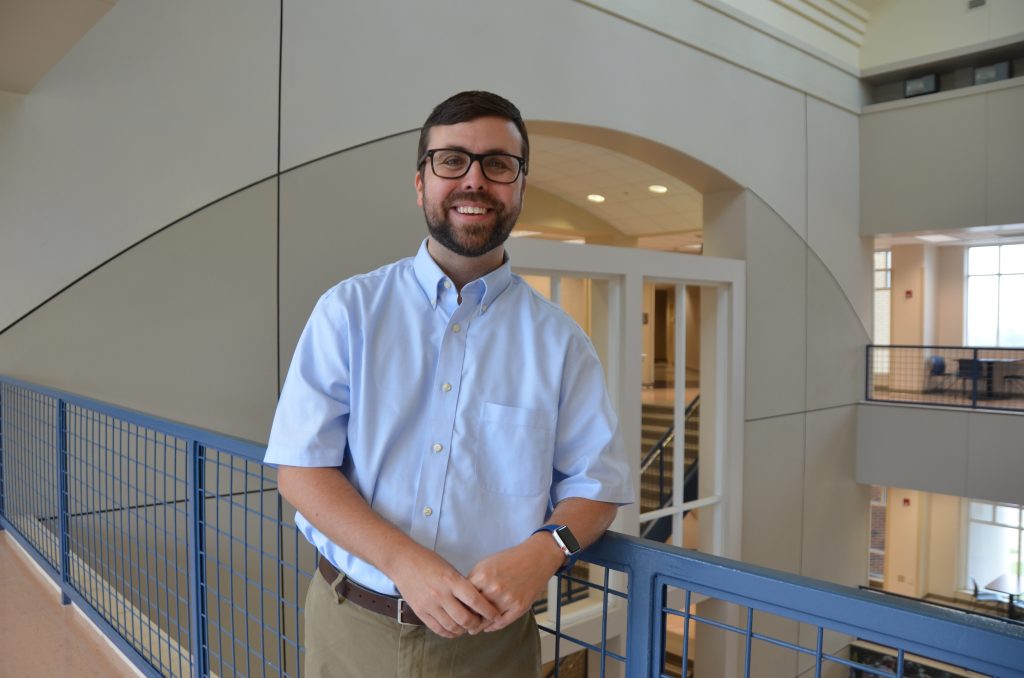 CSWE accreditation is a rigorous peer-review process, and this accreditation assures recipients of social work services and students, faculty and staff of social work education at Augusta University that the program has a clearly defined mission and objective that are achievable and consistent with expectations of social work practice, Hatcher said.
"The distinction of Augusta University's social work program comes in small, interactive courses with individual mentoring taught by social workers with considerable practice experience," Hatcher said. "The social work program is designed to prepare students for generalist social work practice upon graduation. Coursework also prepares students with the groundwork to pursue and succeed in a graduate program."
Eye-opening internship
Shelton, who interned at The Salvation Army Center of Hope in Augusta, said she saw firsthand how people often struggle to survive, especially when they don't qualify for supportive services like Temporary Assistance for Needy Families (TANF) and Supplemental Nutrition Assistance Program (SNAP).
"Having the experience to see how everything works and how it is a constant struggle for those people who don't have the support system, who don't have access to programs and how hard it is to go from struggling with housing insecurity to being stable was truly eye-opening," Shelton said. "I am passionate about policy, and I am very passionate about establishing effective programs. That is what led me to social work."
The Salvation Army Center of Hope, an emergency overnight shelter, is the only shelter in Augusta that serves men, women and families, Shelton explained.
"Over the course of my six-month internship, the Center of Hope served 223 men, 108 women, 40 families and 62 children," she said. "And this was a very exciting year at the Salvation Army Center of Hope. They got a new director, they got a new shelter manager, they announced a capital campaign to build a new shelter to serve the needs of our community better and they also started phasing out some COVID-19 policies."
Since there was so much change happening at the Center of Hope, Shelton said she was provided a lot of new opportunities to help improve the shelter.
"I was able to help with improving data quality, assess shelter policies and look at how we can change policies to increase equality and shift the power dynamic in the shelter between case managers, shelter monitors and participants," Shelton said, adding she also discussed with the new director the need for a non-congregate shelter. "Basically, what we have right now in Augusta, for all the shelters, they are congregate models, which means you have a bunch of beds in a room."
That kind of model can adversely impact someone's chances of turning their life around, Shelton said.
"It impacts people's behavior and impacts their perception of themselves and their overall dignity. To have this experience of struggling with homelessness, and then go to this room with a whole bunch of people that you don't know that have very different barriers can be problematic," she said. "So, there has been a recent push to switch from the congregate shelter model to a non-congregate model, which is basically dorms with two people in a room, using hotels as means of shelter like we did during the height of the COVID-19 pandemic."
Making a true impact
A recent study in Washington during COVID-19 showed a socially distanced model for the homeless had a greater success rate, Shelton said.
"They went from having 13% of participants exit into housing to 53% of participants exiting into housing, once they switched to a non-congregate model with more supportive services," she said, adding that she researched grants through the American Recovery Act that will help support non-congregate facilities. "As part of the American Recovery Act, if you build a shelter that is non-congregate, the grant will help pay for it as long as you can work with the program and you have a history of working successful shelter programs."
Olga Gonzalez, social services director of The Salvation Army in Augusta, said her entire team couldn't have been more pleased with Shelton's contributions to the Center of Hope.
"She has been a beacon of light for all of us over at the Center of Hope," Gonzalez said. "Danielle started with The Salvation Army the exact day I started as their new social services director. From the very first day, Danielle hit the ground running, so much so that I originally thought that she was an master of social work intern."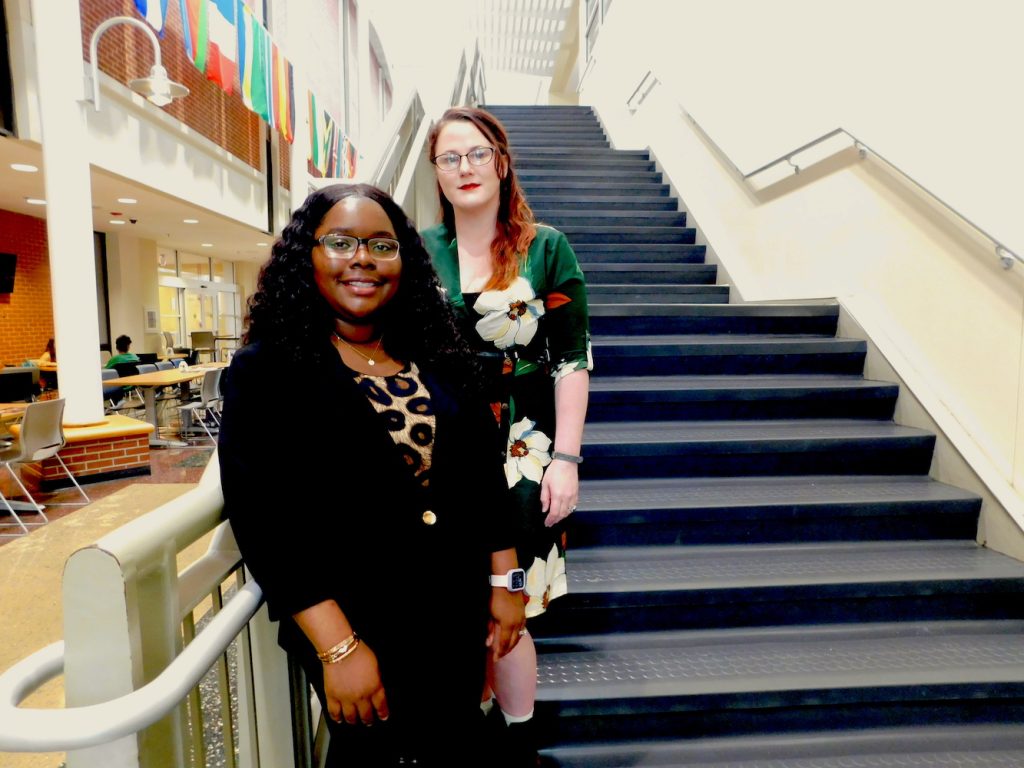 In her six-month internship, Shelton exceeded everyone's expectations, Gonzalez said.
"She is compassionate, kind, analytic and driven," she said. "These often-opposing qualities are rare to find in one person, but Danielle exhibits them with so much grace that, even in the toughest situations, she is able to use these qualities to provide advocacy and support to our clients."
"My entire team is grateful for the full impact that Danielle has had in our program, from helping us evaluate processes, create new tools to help clients and train our team in trauma-informed approaches," Gonzalez added. "Danielle has left a lasting imprint on us over at the Center of Hope and we are eternally grateful for her time with us."
Shelton said she couldn't have succeeded without the support of Morgan Fields, director of the Bachelor of Social Work program at Augusta University.
"Professor Fields really took me under her wing and talked a lot to me about research. I was able to do an independent research course with her," Shelton said. "I'm very interested in policy and program implementation. I also am passionate about numbers and research. I feel like you can have qualitative data with people's experiences, but what really speaks to huge populations is numbers. She helped me learn more about how to do research, and ways to think about problems in a way that is researchable, so you can get those numbers to really tell a story."
Reaching patients
Erica Bloomfield, another recent graduate of the Bachelor of Social Work program at Augusta University, is currently pursuing her master's degree at Savannah State University.
For eight years, Bloomfield worked as a certified nursing assistant, but she never felt she was fully reaching the patients she served.
"Originally, I was pre-nursing, but I found that there was a disconnect," Bloomfield said. "When the patients would come in from a fall or something like that, we would do more of a Band-Aid fix. I wanted to start exploring the things that may have caused the patient to come in the first place. I found that what I was actually getting at were social issues moreso than just medical issues."
In fact, Bloomfield said she had a regular patient who was a geriatric social worker and encouraged her to pursue a degree in social work.
"She would always tell me, 'You're going to be a social worker. You're not going to be a nurse,'" Bloomfield said, laughing. "I thought she was being biased. However, she was right. So that is just how I fell into social work, doing my own research and really trying to understand social issues and health disparities, especially in rural populations."
But Bloomfield's road to receiving her bachelor's degree in social work was far from easy, she said.
"I was a teen mom and got my GED. I had my first daughter when I was 17, so I've overcome a lot of adverse events in my life," Bloomfield said. "I'm also a first-gen graduate, so I was walking into this area of life that no one has experienced in my family. It was like going into the unknown. But they are really proud of me, and they are cheering me on, and they are excited. And I am very proud of myself, too."
Bloomfield, who interned at the Movement and Memory Disorder Program in the Department of Neurology at the Medical College of Georgia at Augusta University, worked directly with patients with Parkinson's disease.
"Our movement disorders section manages one of the 33 prestigious comprehensive Parkinson's Disease Centers of Excellence in the United States," Bloomfield said. "Through the Supportive Care Clinic, we hope to build an interdisciplinary team for our patients to come in and receive holistic support at the start of the diagnosis."
Always willing to work
Dana Daniel, community services educator at the Memory Assessment Clinic for the Movement and Memory Disorder Programs at MCG, said Bloomfield has a bright future ahead of her.
"I have truly enjoyed watching Erica grow as a social worker this last year and am grateful that I was able to act as her field supervisor," Daniel said. "She was the first social work intern with the Movement and Memory Disorder Programs, and I feel truly blessed that she was. Erica came in always willing and ready to work. She has been a great advocate for our patients and was able to help many of them get the services and assistance that they need to lead successful lives within the community."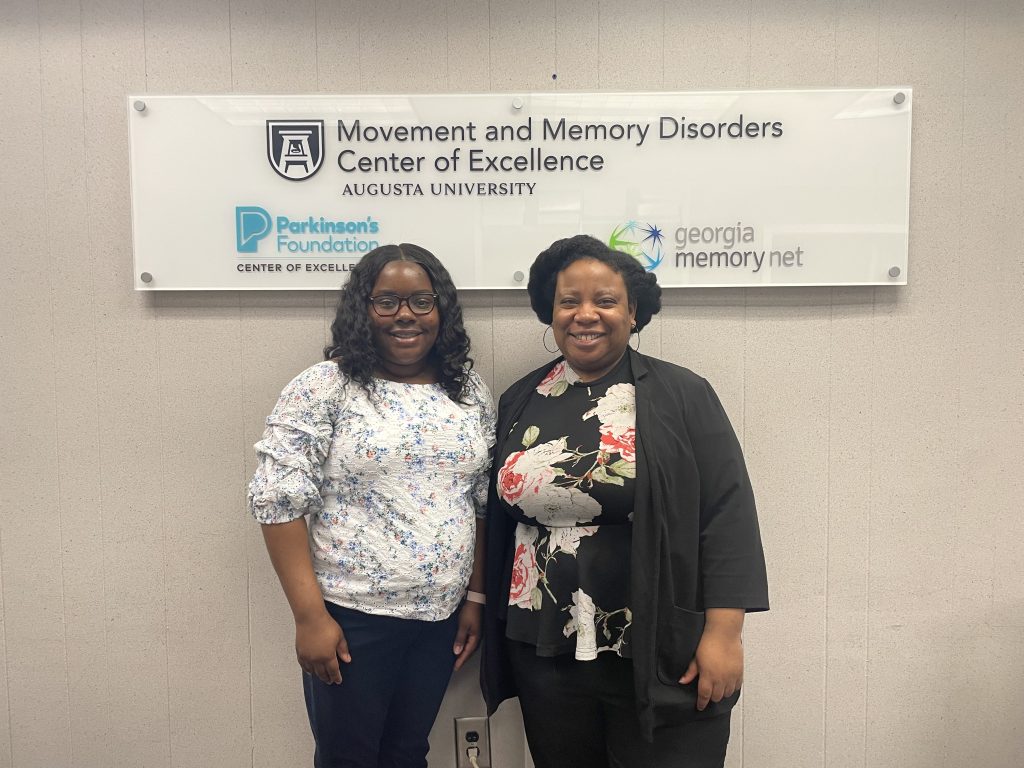 Bloomfield also played a significant role in the implementation of the new Supportive Care Clinic being offered by AU's Parkinson's Foundation Center of Excellence, Daniel said.
"Erica is a true asset to the social work field, and I know that she will continue to do great things," Daniel said. "I am grateful to have been a part of her journey."
Bloomfield said she couldn't have asked for a better field supervisor than Daniel.
"She was incredible, and she encouraged me to tell other non-traditional students coming in that, 'You can reach high achievements,'" Bloomfield said. "Don't be afraid to take that first step."
With her bachelor's degree now hanging on the wall, Bloomfield said her 10-year-old daughter understands the importance of education.
"She understands how much education means to me and how hard I worked for that degree," Bloomfield said. "I just want to be a role model for her and let her know that she can achieve anything in life. Nothing can stop her."
Penny Alderman, a senior lecturer of the Bachelor of Social Work program at Augusta University, said both Bloomfield and Shelton received the Outstanding Senior Social Work Award last semester.
In addition, Shelton received the Rowan Feldhaus Service Award, which is awarded to a student who has demonstrated exceptional leadership, mentoring and accomplishments related to bringing about positive social change for the community.
"Both of these ladies have done tremendous work, and their experiences have completely prepared them for graduate school," Alderman said. "In fact, during their internships, they were both performing master-level work. They should both be extremely proud of the work they have done here and everything they have accomplished at Augusta University."