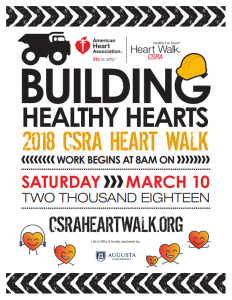 The CSRA Heart Walk is set for Saturday, March 10, at the Greeneway in Riverview Park in North Augusta. You may register to compete in the 5K or walk in the 3.1-mile fun walk.
The Heart Walk is the American Heart Association's premier event for raising funds to save lives from the nation's No. 1 and No. 5 killers, heart disease and stroke.
Augusta University/AU Health has raised $79,859 to date, with a goal set to exceed the $164,000 raised last year.
Augusta University received almost $6 million in research funding from the AHA this year. This is far more than we raised locally, and this funding supports important, life-saving work of 36 researchers right here in our institution.
If you haven't started a team or signed up under an existing team, it is not too late! You can also make a personal contribution to another team on our AU Heart Walk page.
Please give a gift and invite a colleague to do the same.
Designed to promote physical activity and heart-healthy living, the Heart Walk creates an environment that's fun and rewarding for the whole family to participate. Walk with friends, family, coworkers, and join hearts along the way.