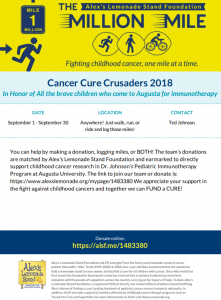 Graduate students are working with interest groups to hold a lemonade stand to benefit childhood cancer research through the Alex's Lemonade Stand Foundation (ALSF) on Tuesday and Wednesday, Sept. 25-26.
Hosted in the J. Harold Harrison, M.D. Education Commons lobby on the Health Sciences Campus, the money raised will be donated to support the Pediatric Immunotherapy Program directed by Dr. Ted Johnson, associate professor at the Medical College of Georgia at Augusta University.
September is Childhood Cancer Awareness Month, so help fund a cure for childhood cancers by visiting the lemonade stand or donating online to their team Cancer Cure Crusaders 2018.
The event will include freshly baked goods alongside homemade lemonade, and will take place from noon until 3 p.m. on both days.
With a goal of funding four full days of research, ALSF is hoping to raise $1,600. Enjoy a cup of lemonade and help fight childhood cancer one cup at a time.
The event is tied to the Million Mile, a separate event through the ALSF that runs the entire month of September to raise money for childhood research by logging miles walking, running or biking to bring awareness to childhood cancers. The Million Mile has a collective goal of logging one million miles and raising one million miles in the month of September.
Check out Alex's Lemonade Stand Foundation for more information, for donation opportunities or visit their special events calendar.