Augusta University's College of Nursing is deeply invested in helping with the response to the COVID-19 pandemic in our community, which includes the work of our students.
Instructor Alyssa Kingree's three-year BSN program students are helping by raising money for supplies and collecting donations for vulnerable members of the community and nurses on the front line.
"I'm so happy to have students that stepped up not only to support our AU community, but the CSRA community as well," Kingree said.
Nursing student Brittany Bledsoe started the project based on what she saw on social media.
"Who would've thought our country would have ever been in a toilet paper crisis?" she said. The panic purchasers were leaving those at high risk for severe COVID-19 symptoms with nothing on the shelves. Prior to establishing vendor relationships, Bledsoe and her team were collecting donations of items that had become difficult to find.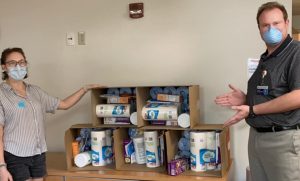 As the project grew to include several other AU nursing students and students from other universities, the group realized the need to establish vendor relations to streamline bulk purchases. The AU group includes Amanda Huels, Stephanie Wilson, Emily Hiebert, Haylee Richardson, Ansley Adams, and Glory Nyangaresi. Brittany Lewis from Aiken Tech and Rosie Carrell from Lander University have also joined the effort.
The monetary donations they have received are being used to order items through distributors, stores and local seamstresses. They have purchased gift cards from locally owned restaurants offering curbside pickup and delivery. Restaurants like Taqueria El Rey, The Boll Weevil and The Pizza Joint have generously donated gift cards as well.
Donations have also come from unexpected places, including the Local 283 Carpenters' Union donating funds and tattoo parlors donating their nitrile gloves.
Social media has also been a powerful tool for getting the word out and locating coveted items like hand sanitizer.
These futures nurses were called to help their community in its time of need, Bledsoe said, adding that public education is a part of that assistance.
"As future nurses, we've also felt it important to provide people with evidence-based information regarding how to use some the PPE (personal protective equipment) we've provided them," she said. The students developed a pamphlet to include in the care packages with instructions on how to properly wash your hands as well as how to don and doff gloves and masks.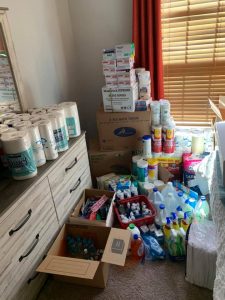 To date, they have raised over $4,000 in monetary donations and countless item donations. These donations have helped create 65 care packages that have been delivered to at-risk citizens, patients of the Georgia Cancer Center, patients in the JMS Burn Center at Doctors Hospital, and transplant patients at Augusta University Medical Center.
This week, deliveries will be made to the COVID-19 unit at AUMC, including care packages for the nurses of the MICU and ER.
Efforts to coordinate with local hospitals are organized by the group's hospital liaison, Amanda Huels.
"I've been reaching out to case managers and social workers in the hospitals, allowing them to disperse donations to high-risk individuals who will be returning home," Huels said. "They have been really appreciative our efforts."
Their organization has expanded to include coordinators in both Jefferson and Burke counties who have delivered care packages to the Jefferson County Sheriff's Office and the Burke County Health Department.
Kingree beamed about her students' work.
"Being a nurse is all about service to others and caring for others and even though these students have not yet graduated, they have already embodied what it takes to be a nurse," Kingree said.
Patient care packages include: toilet paper, paper towels, hand soap, hand sanitizer, virucidal cleaning product, masks, gloves, and a gift card to a local restaurant. The care packages for nurses include similar items to the patient packages, with the addition of wet bags for dirty scrubs, handmade scrub caps and clips for earloop masks.
If you would like to contribute to the care packages, message the group's Facebook page, Resources for the At-Risk, or email Brittany Bledsoe.