The Augusta University College of Education is proud to announce the 2021 Outstanding Student Awards recipients, who are being honored for their work during the 2020-21 academic year.
The awards are presented to students who have excelled in their programs and exhibit high academic achievement, career readiness and character. They are a diverse group of students, from seniors about to take their first professional position, to veteran teachers with more than 20 years of experience. They are teachers, counselors and kinesiologists who aspire to great things in their classrooms, clinics and careers. Meet this year's award recipients:
Alyssa Anderson
Alyssa Anderson of Augusta was awarded Outstanding Undergraduate Student in Special Education.
"Throughout the special education program, we learn that to truly be successful anywhere, we have to know how to communicate with people. I have learned so much and gained so much knowledge from the professors that I've had. Their support and willingness to help everyone succeed is truly inspiring and models the type of teacher I hope to be," Anderson said.
Anderson worked full-time throughout college, and had two children while enrolled in college. She recently accepted a new position at a local school and intends to pursue her master's degree.
"I am very excited to continue to grow in my career," she said.
Anderson is the daughter of Kenneth Anderson and Tabitha DeBow.
Theresa Berman
Theresa Berman of New Orleans was awarded Outstanding Master of Arts in Teaching Student in Secondary Education.
Berman pursued her love of history to a degree in teaching U.S. and world history in secondary schools. In the process, she began interviewing individuals who have lived through history. As part of Dr. Juan Walker's Best Practices in Social Science Education course, she contacted Mark Schonwetter, a Polish survivor of the Holocaust.
"My Zoom conversation with Mr. Schonwetter was an unforgettable experience. He shared his personal experience of surviving the Holocaust as a child in Poland, and this encounter strengthened my resolve to teach my students to engage in living history and to speak to people who are living witnesses to historical experiences, such as survivors of war," Berman said.
Berman is married to Dr. Adam Berman, and they share five children: Joseph (21), Jack (19), Ellie (17), Julia (14), and Sue (10). She is the daughter of Lawrence and Donna McNamara.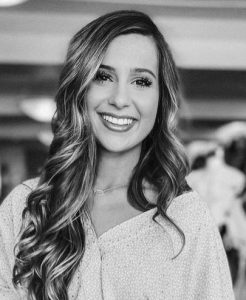 Briana Buck
Briana Buck of Augusta was awarded Outstanding Undergraduate Student in Elementary Education.
Buck chose to study elementary education and uses it to convey her love of children.
"Teaching is not always about learning. It also consists of helping students build confidence to develop the drive to succeed. Spending extra time with students to get them through something they are struggling with and seeing how excited they are as they make connections is one of the most rewarding experiences I have ever had," Buck said.
Buck implements her passions into her teaching, whether it is children's literature or the study of sharks. After graduation, she intends to teach at an elementary school and return to complete a Master of Education in Instruction, as well as endorsements in Reading and English to Speakers of Other Languages. It is clear that Buck enjoyed her Jaguar experience.
"I have such a love for my fellow classmates and I could not imagine how the program would be without them. In my heart, I know they all will make such lovely teachers! We truly are a family. Watching them grow within themselves has been such a rewarding experience as well," she said.
Buck is the daughter of Christina Loggia.
Andrea Bustos
Andrea Bustos was awarded Outstanding Master of Arts in Teaching Student in Elementary Education.
Bustos enrolled in college after her two oldest children enrolled in college and her youngest began high school.
"My husband and my children held down the fort throughout my time in the program and my first two years teaching. I'm immensely thankful for them," Bustos said.
She currently works as an Early Intervention Program teacher for kindergarten and first grade in Richmond County Schools, and does volunteer work, such as the Impacting Student Learning Conference. She is looking forward to creating a meaningful career in education.
"I hope to be an advocate for student choice and agency, as well as democratic, self-directed education," she said. "I've learned that veteran teachers are unbelievably encouraging, supportive and nurturing to new teachers."
Bustos is the daughter of Claude Farmer and Dr. Martha Farmer.
Mariah Clay
Mariah Clay of Covington, Georgia, was awarded Outstanding Graduate Student in School Counseling.
Clay worked in Housing and Residence Life and in Student Life and Engagement while at Augusta University, in addition to working as an elementary school counseling intern. She is currently employed as a school counselor at Clearwater Elementary.
Clay said one of the most important lessons she can share is to not be afraid of making mistakes.
"Making mistakes is proof that you are trying. Do not look for the 'right' answer, instead look for the 'best' answer that would best help your situation," she said.
Clay is the daughter of Yvonne Lynch and Albert Clay.
Jasmine Cole
Jasmine Cole was awarded Outstanding Undergraduate Student in Secondary Education.
Christina Conti
Christina Conti of Woodstock, Georgia, was awarded Outstanding Graduate Student in Clinical Mental Health Counseling.
Conti spent her time at Augusta University deeply immersed in both the school and professional training. served as a graduate assistant in Student Life and Engagement, is a member of Chi Sigma Iota counseling honor society, and has worked as an intern at Child Enrichment. She also co-authored a book chapter on the mental health needs of children living in rural poverty.
"The main thing I have learned during my time in my degree program has been to take life day by day," Conti said. "Life is often challenging, but the faculty in my program have taught me how to take life's challenges and use them to be a better and more empathetic counselor."
Conti has taken a position at a private practice in North Georgia, which is close to her family, and specializes in working with children and adolescents who have experienced trauma.
"Augusta has been home for the past seven years and while I am sad to leave this city and campus, I will take what I have learned with me. My accomplishments would not be possible without the faculty, staff and students who have been with me every step of the way," she said.
Conti is the daughter of Chris and Melissa Conti.
Melissa Delman
Melissa Delman of Dayton, Ohio, was awarded Outstanding Graduate Student in Advanced Educational Studies.
Delman is a full-time music educator for Fulton County Schools, and has presented at several conferences as an education specialist student. She attended the program online.
"As a music teacher, my passion is world percussion," Delman said. "I enjoy studying with musicians from different cultures and backgrounds, learning about different world drums and techniques that I can bring back to the classroom and introduce to my students."
The program introduced her to scholars like Paulo Freire and bell hooks, who have influenced her perspectives on education and "brought me to a whole new level of how I look at the field of music education, and my own teaching," she said.
The techniques she acquired as an Ed.S. student have helped inspire her intention to pursue her doctorate at AU, as well.
Delman is the daughter of Michael and Victoria Delman.
Cassandra Govea
Cassandra Govea of Marietta, Georgia, was awarded Outstanding Undergraduate Student in Middle Grades Education.
Govea's college career sparkles with accomplishments. She served as a resident assistant for Housing and Residence Life, she was a senator for Student Government Association, Homecoming Queen candidate and president of the Collegiate Middle Level Association, which won Student Organization of the Year. She also presented at conferences and was on a team of students who hosted a national summit for college middle grades education associations.
"The middle grades education program gave me more than I could have imagined. I am leaving AU knowing that I have made lifelong connections with people that all share the same dream," Govea said.
Govea will return to her hometown to pursue and education career with Cobb County Schools, and continue her education in a master's degree program.
"We go into the profession of teaching to encourage those that were once us that anything is possible. AU provided me with classes in my program that were very tight-knit that made it seem like we more than just a group of future teachers; my peers become more like my family," she said.
Govea is the first in her family to complete a university degree. She is the daughter of Librado and Ana Govea. Read more about her journey at AU.
Rachel Jackson
Rachel Jackson of Augusta was awarded Outstanding Graduate Student in Instruction.
Rachel Jackson is officially a Double Jag. Having finished her Bachelor of Science in Elementary Education, she returned to Augusta University to complete her master's degree.
"I had the opportunity to work with professors from Augusta University that have left a lasting impact on my growth as an educator," Jackson said. "I not only had the opportunity to work with some influential professors, but alongside fellow classmates who were extremely passionate for the education field."
The Master of Education in Instruction degree program provided her with the opportunity to learn new skills and directly apply them to her own classroom.
"The program provided flexibility and the opportunity to reach my goals at my own pace," Jackson said, as she is currently a full-time teacher with Columbia County Schools. She was so pleased with the experience, that she'll return this summer to begin working on her education specialist degree.
Jackson is the daughter of Jackie Jackson and Mary Kay Jackson, and recently became engaged to her fiancé, Mark.
Victor Piedra
Victor Piedra was named Outstanding Undergraduate Student in Kinesiology. Read more about Piedra's journey at Augusta University.
Angie Smith
Angie Smith of Chattanooga, Tennessee, was awarded Outstanding Master of Arts in Teaching Student in Middle Grades Education.
Smith, who is being inducted into Phi Kappa Phi next month, enjoyed a great deal of academic success at Augusta University. But her favorite class was Language Arts Best Practices, taught by Dr. Christi Pace, in which her final project involved her whole family and dog in a video and rap performance.
"My kids really provided me with the support to do something that put me out of my comfort zone. So, when it came time to actually present this in front of the class, I was terrified; but my peers and Dr. Pace were very supportive in my efforts to present what I learned. It was such a positive way to end the term," Smith said.
Smith didn't stumble into her success. She created it. After some family upheaval, she and her younger brother landed with their stepfather, whom she credits with creating a safe and loving home. But she also credits family members, coworkers, friends, former teachers, current professors, her children and her husband for providing encouragement and support to succeed.
"I have had a lot of support. In receiving this honor, I want people to know that no matter what you have endured, you can persevere. It won't be easy; it's not easy. But allow yourself permission to never dismiss what happened to you; let it be a stepping stone into showing later how far you have come," Smith said.
Smith is the daughter of Mr. Gregory Matthews.
Micah Smith
Micah Smith of Cartersville, Georgia, was awarded Outstanding Graduate Student in Educational Leadership, Tier I.
Smith, who works as Head of Middle School at Calvary Day School in Savannah, Georgia, found particular inspiration for his success in the guidance provided by Dr. Renee Sasser.
"She truly exhibits what it means to be a leader. Highly relational and always available to lead you in the right direction. All qualities I hope to take with me in my future endeavors," he said.
Smith is the son of Jimmy and Kristi Smith.
Austin Sroda
Austin Sroda was awarded Outstanding Graduate Student in Kinesiology.
Zachary Watson
Zachary Watson of Warner Robins, Georgia, was awarded Outstanding Graduate Student in Educational Leadership, Tier II.
Watson is a full-time educator at Grovetown High School and works as the coach, business and athletic director, and the sole teacher of AP government and politics. He is new to Jaguar Nation, having completed his undergraduate and master's work at other institution, but he says the hands-on learning Augusta University provided enhanced his perspectives on education.
"What I really enjoyed about my time at AU was being able to go into the field and shadow experienced educators and educational leaders to see education from a different perspective," Watson said. "The experiences that AU allowed me to engage in outside of the classroom and my own school allowed me to gain further knowledge, experience and awareness about what life as an educational leader is truly about and the impact that we can have on our students."
Watson intends to pursue an Ed.D. in educational leadership to move into school administration, and hopes to advance to the district level and beyond.
"I hope to one day move into a state-level educational position and create change across the state of Georgia," he said.
Watson said support at home helped him to reach his academic and professional goals.
"I'd like to thank my wife, Lindsey, who has been extremely patient and supportive throughout my degree completion process. Her support and understanding of my long hours at work, followed by my commitment to my studies in my coursework at AU, is why I am able to be as successful as I have been in this program," he said. "She deserves as much praise and applauds, especially as we prepare to welcome our first child in October!"
Watson is the son of David and Regina Watson.