When schools in Richmond County announced a few weeks ago that they were closing due to concerns over the coronavirus, a group of professors from Augusta University's College of Education, who also serve as literacy coaches for several local high-need schools, sprang into action.
They wanted to make sure children across the area were given books to take home and keep as their own before the students were dismissed from their schools.
This past school year, the College of Education had partnered with local principal Stacey King from Richmond County's Intermediate Literacy and Math Center (ILMC) to collect donated books and clothing for her students.
The ILMC is a grade 3-5 elementary school where students are at least two grade levels behind in literacy and math. The school is also located on 15th Street, an area with a high poverty rate.
ILMC received about 5,000 donated books as a result of a community collaboration between the College of Education and a local donation drive called "Books for Shay" that honors 17-year-old Shaylin Foster, who was tragically killed in a car accident in 2018.
"When Stacey King heard we had collected 5,000 books, she knew that was too many for her school alone," said Dr. Kim Barker, an assistant professor in the department of teaching and leading at Augusta University's College of Education. "She only has grades three, four and five in her school, so that was far too many books for her kids to carry home with them. Ms. King generously offered to share the extra books with other schools in our community."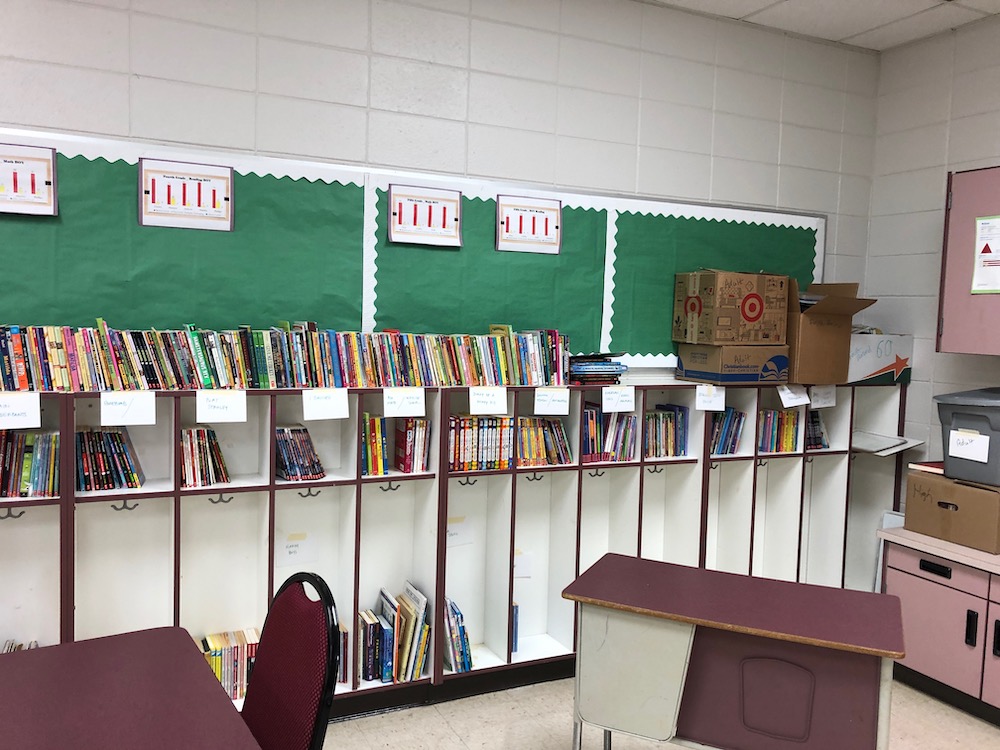 In addition to "Books for Shay" donations, other community members donated a variety of books for different age groups that needed to be sorted, Barker said.
"People donated all kinds of books, such as picture books, baby board books, middle and high school-level reading materials, and books that adults would want to read, like inspirational and religious books," Barker said. "Ms. King couldn't really use all of those books in her school, so she allowed us to distribute books to other schools in the area. But the books all had to be sorted, and there were boxes and boxes of books."
Getting books out in time
Barker and the team from Augusta University's College of Education, which included Dr. Kristy Brown, Dr. Darla Linville, Dr. Christi Pace, and Dr. Stacie Pettit, and staff members of the ILMC, went to work sorting the books.
The books were given to students at ILMC, Glenn Hills Elementary School, Wilkinson Gardens Elementary School, Murphey Middle School and Glenn Hills Middle School. In addition, Barker and Linville took the high school and adult-level books to a Richmond County Board of Education food pick-up spot where families could select and take as many books as they wanted.
"The weekend before Richmond County temporarily closed the schools, it suddenly occurred to me, 'Oh my goodness, we have all these books and we have to give them out before they close the schools,'" Barker said. "We had planned to give the students the books before spring break and then again for summer reading, but I started thinking we might not have a chance to do that, and this might be our best opportunity this school year."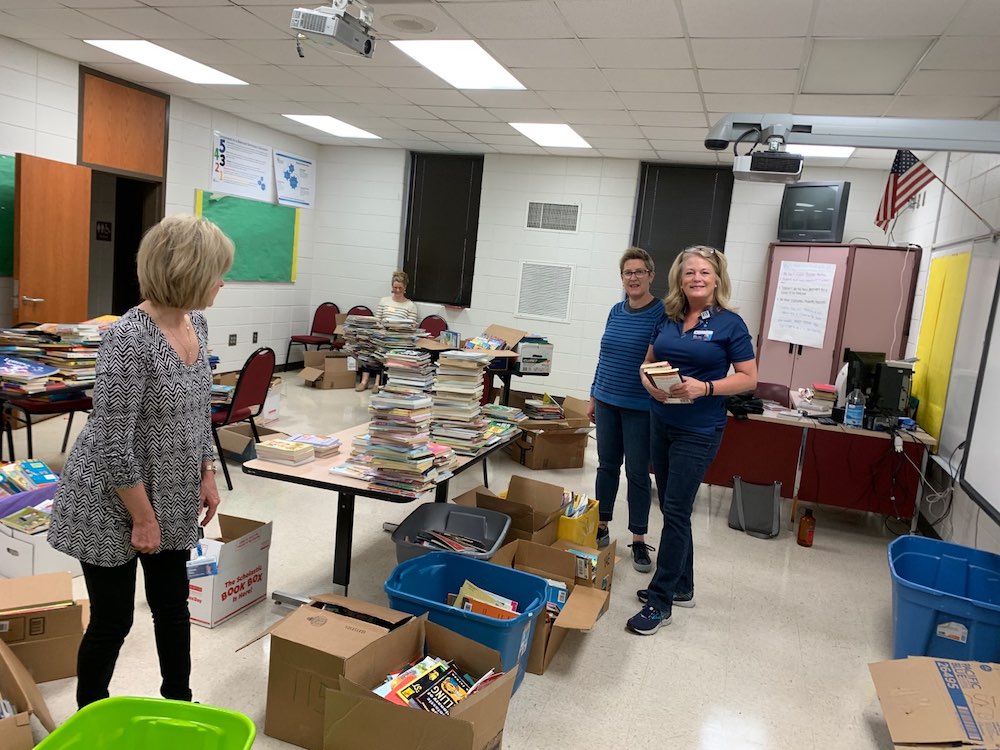 The weekend before Richmond County announced it was closing schools, the College of Education team divided the books by genres and reading levels and put them in different cubbies at ILMC, Barker said.
"We wanted the kids to be able to walk into the classroom and 'shop' for books.  If they said, 'Oh, I like to read Junie B. Jones or Dork Diaries or Pete the Cat,' we had shelves of those books organized and ready for them," Barker said, adding that the group began distributing books at ILMC on Monday, March 16.
"Dr. Linville is a former school librarian, so she helped the group to organize and label the books by genre and series, making it easy for teachers to bring the kids through, one class at a time, to pick out books that they wanted to take home."
At first, they asked the students to pick 10 books they would want to take home, Barker said.
"We told the kids that they could take 10 books, because we estimated that was about what they could realistically carry home with them," Barker said. "As they were picking out books, we also told them, 'Pick out what you like to read, but you can also pick out some books for your siblings or other family members.'"
Children thinking of others
As the children began choosing books, Barker said ILMC faculty and the team from the College of Education were moved by the fact that students were thinking more about their siblings than themselves as they selected books.
"We started realizing this when they explained the contents of their stack of 10 books. They would say, 'Well, I have to get one for this brother and my sister or my cousin and the baby in the family,'" Barker said. "They were ending up with a bunch of books for babies and younger siblings and not so many books for themselves."
Therefore, the staff switched gears and allowed the students to get 10 books for themselves and any additional books for their siblings.
"It was just so heartwarming that they were always thinking of their siblings and the other kids in their family first," Barker said. "They were so excited. You would've thought it was Christmas. They were carrying out big stacks of books like it was just the best thing ever."
The team then took two loads of books to Glenn Hills Elementary and Wilkinson Gardens Elementary, Barker said.
"We were able to put those books out at the bus exit points by the end of the day," Barker said. "The kids at those two schools were able to stop by and pick out books on their way to the buses."
Making a huge difference
Shawnda Spruill, the principal at Glenn Hills Elementary, said the donated books meant the world to her students.
"Each year, the state of Georgia assigns what we call College and Career Readiness Performance Index scores," Spruill said. "It's basically based on our student achievement scores on standardized testing. Our students at our school, a large majority — 50% or a little over — aren't reading on grade level. Dr. Barker is our literacy coach through our L4GA (Literacy for Learning, Living, and Leading) grant. The whole goal of that program, of course, is to get kids reading, and, clearly, she cares."
When the students were dismissed due to coronavirus concerns, Spruill said she was overwhelmed by Barker and her team's efforts to make sure students were continuing to read outside of class.
"The group at the literacy center actually sorted through the books based on the reading levels for our kids," Spruill said. "Some people think that any books will work for all readers, but they don't. In order for children to feel successful reading, they need texts that they can comprehend. So, they went ahead and sorted all the books, and then we gave them to our students as they exited, based on their reading level and their interest level."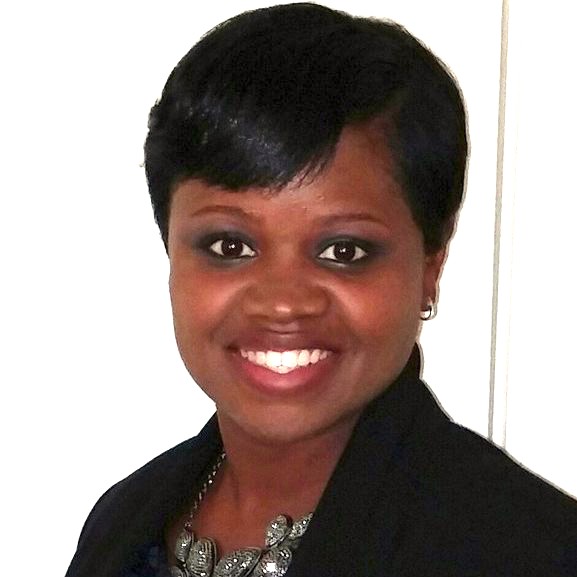 Spruill said it was an unbelievably kind gesture that was truly beneficial to her students.
"We didn't just hand them a book and say, 'Hey, you've got to read this while you're gone,'" Spruill said. "We sorted through them so that they could pick books that were on their level, which is what we call 'just-right' books."
When the school staff realized there were some remaining books available, they immediately let the parents of the students who were absent on the last day pick up some additional books for their children.
"It was wonderful because a lot of parents said, 'My kids wouldn't have had anything to read if you didn't give these books away,'" Spruill said. "People don't realize it, but the libraries are closed, and a lot of our students have limited access to technology, so it's not like they can go online and access an e-book or anything. For us, having the good old-fashioned books to give them was really a game changer for our kids."
Facing the challenge ahead
Many people don't realize the current environment of online education is not practical for all children, Spruill said.
"It's very difficult for our school," Spruill said. "We actually have an Excel spreadsheet going now because Literacy for Georgia or L4GA is going to fund devices for my students who don't have them. And they're going to provide internet to any students who don't have it. But, after just the first day of being out of school, we already had more than 60 names on that Excel spreadsheet of kids who don't have technology."
When the online learning is offered through websites, it's impossible for her students to be homeschooled, Spruill said.
"But even if those students don't have their paper packet or don't have access to their LaunchPad, they still have a book in hand," Spruill said. "They can learn so much from a book. And when our kids went home with several books in their hands, they still have that resource and that's something tangible."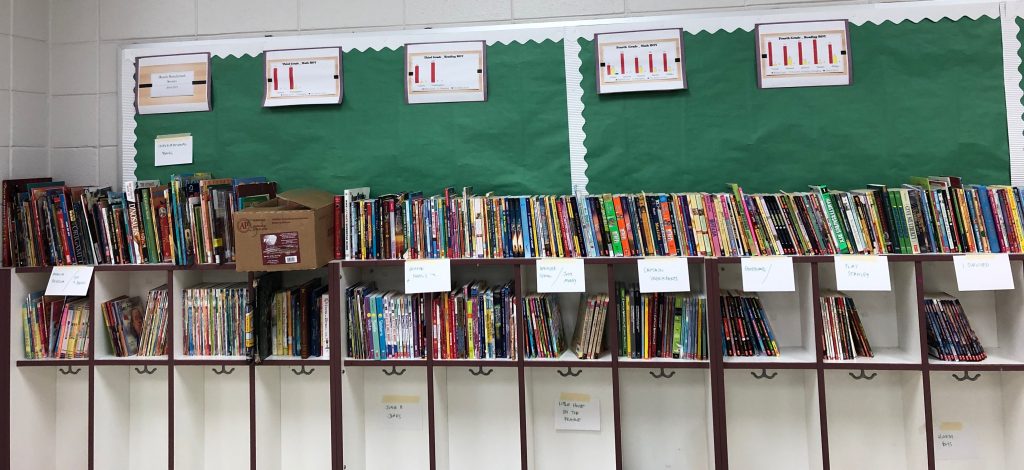 In fact, being able to own several books of their own can change a child's life, Spruill said.
"There was a little girl who's in Pre-K who came in with her mom and I asked her, 'Are you going to pick out a book?'" Spruill said. "The little girl picked out a Rapunzel book, one of those Ready-to-Read ones. And she said, 'I love Rapunzel.' She turned to her mother and asked, 'Mom, is this my book?'"
The mother looked to the principal for an answer.
"I said, 'Yes, absolutely, this is your book,'" Spruill said. "And you should have seen her face. Just in that moment, having the child realize that, 'This is my very own book that I get to read,' was incredible. Having their own book, that they can keep, is so very important."
Once the coronavirus pandemic subsides, Barker said she wants to continue collecting and distributing books to local schools.
"We'd like to get more books to the kids who need them," Barker said. "It's a great way for the community to help other people."
While families are at home and doing spring cleaning, Spruill asked everyone to save their unused books for future donations to the local schools.
"Please don't give your books away and definitely don't throw them in the trash," Spruill said. "Save them for us. I promise, we will make good use of them."
For more information about donating books to Augusta University's College of Education in the future, contact Dr. Kim Barker at 706-737-1496.