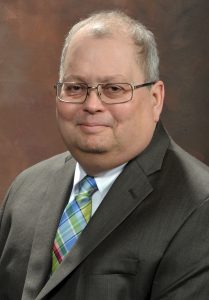 The College of Science and Mathematics has named its conference room and launched a scholarship to honor the legacy of Dr. Rickey Hicks, the college's first permanent dean.
Hicks served in that position for three years before passing away in January.
Dr. John Sutherland, the college's interim dean, knew Hicks for over a decade and is honored to have the opportunity to see his friend's legacy live on.
"Dr. Hicks was instrumental in me and several other faculty members choosing to work at Augusta University, and his work as dean truly set the college on the course of academic excellence," said Sutherland. "His commitment to Augusta University could be seen in his efforts as dean and I am grateful we have a chance to remember his contribution to both the college and the university."
The ribbon cutting ceremony for the Dr. Rickey P. Hicks Conference Room—which Hicks helped design— was held August 10, with Hick's wife, Kim, in attendance. The conference room is located in the college's suite and is filled with art representing popular Augusta and campus landmarks.
The endowed Dean Rickey Hicks Scholarship fund has already started accepting donations and the money will assist the university's science and math majors. To make a contribution visit the giving page.
Prior to his time in Augusta, Hicks was chair of the Department of Chemistry at East Carolina University, director of medicinal chemistry at Walter Reed Army Institute of Research and a professor of chemistry at Mississippi State University.
An avid researcher specializing in antimicrobial peptides in drug design for use in fighting drug-resistant bacteria, Hicks held five patents and had 55 scientific publications.