All they wanted was an A in a professor's class, but what four Dental College of Georgia students got was the attention of national cancer organizations and dentists in other parts of the world after creating a video to teach people how to spot signs of oral cancer.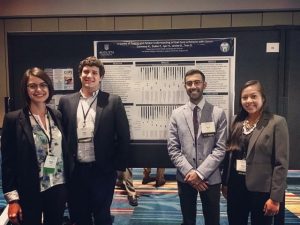 Dahlia Levine, Zach Dubin, Varun Iyer and Diana Tran started their dental school journey in Dr. Kate Ciarrocca's class in the fall of 2014. Ciarrocca tasked her students with drafting a proposal as if they were really applying for a grant. Ciarrocca said she was so impressed with the plan these four students came up with, she worked with them to turn it into a submission for the 2015 Dental Trade Alliance Foundation grant for educational outreach.
"When Dr. Ciarrocca suggested applying for the actual grant, we were flattered," said Tran. "We felt honored that she thought our simple class project could become something much more."
"It really instilled a lot of confidence in us about how important the project was," Levine added.
The students found out in the fall of 2015 that their proposal had been accepted. They received a $20,000 grant a few months later.
The money and the journey the students found themselves on was personal for Dubin, who lost an aunt to oral cancer. After getting the grant, the students, along with their professor, created the student organization Comprehensive Oral health Promotion and Education (COPE) with Cancer. They hosted lunch and learn events with cancer support groups in Augusta and Atlanta to talk about what changes cancer patients could expect in their mouths and what questions they needed to ask their dentist once their treatment started.
Levine says a conversation with dentists at the American Academy of Oral Medicine annual convention in Orlando, Florida, was especially eye-opening about the importance of the work her team was doing.
"When we shared our video, dentists from Singapore and Sudan came up to us afterwards raving about how it was produced and the message it shared with people about the importance of doing the screening," she said.
The video project was a collaboration with students from multiple areas of Augusta University. It took eight to nine hours during two days of filming to create the six-minute movie. It shows viewers the different areas of the head and neck that need to be checked for signs of oral cancer. It went live for all to see on April 24, 2017, during Oral Cancer Awareness Month. It will be utilized by various cancer outreach organizations around the nation.
"One of the main goals of the video was to provide an educational resource that anybody in the world could access," Levine said. "We went with a humorous approach because we wanted to keep viewers engaged and because the information we were sharing can save lives."
"You see all the results of breast cancer and breast cancer screenings – why couldn't we teach people how to check their mouths to do the same thing?" Ciarrocca said. "Oral cancer survival rates are fairly low, so the earlier you can detect it, the higher the survival rate could be."
While their first video is aimed at adults, the students are planning to create a video in the fall that will address children and the risks associated with pediatric oral cancer.