Augusta University's Office of Civic Engagement, a unit of Student Life and Engagement, has hosted two community service events in the first two months of the Spring 2021 semester, both of which have received overwhelming support.  
In January, to support people experiencing homelessness in the CSRA, the office hosted an MLK Day of Service project in partnership with Bridge Ministry of the CSRA. Students made "blessing bags" filled with hygiene items, clothing and non-perishable food items.  
Civic Engagement provided 165 bags full of supplies in partnership with multiple student organizations, including Biology Club, Aspired Unity, Delta Sigma Theta, Zeta Tau Alpha, MEDLIFE, Pi Kappa Phi, Canterbury Club, and the Pre-Nursing Society. The project also received abundant support from faculty and staff.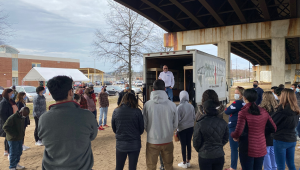 The blessing bags were hand-delivered to the Bridge Ministry of the CSRA on Saturday, Jan. 30. 
"The thing I enjoyed most about making the blessing bags and volunteering was that it was an eye-opening experience. It made you think a lot deeper about life," says Kristy Nguyen, a freshman pre-nursing major. 
Ashley Hall, the secretary at Bridge Ministry, was grateful for the support.
"I see the heart you guys have and it was amazing working with you all through this. Can't wait to have you back," said Hall in an email to Civic Engagement.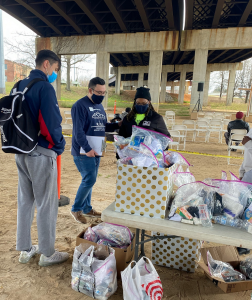 Another recent project was making Valentine's Day goody bags for a local elementary school. Students gathered in the JSAC Coffeehouse on Feb. 9 to put together bags filled with candy, pencils, erasers, a toy and a Valentine's Day card. 
Students were able to make over 300 bags for Copeland Elementary School, and even had enough donations to sponsor goody bags for McBean Elementary as well. 
"I was thrilled by the outpouring of support for both of these projects. So many students, faculty and staff participated and we exceeded what we expected," says Roberto Aragon, coordinator for student involvement in the Civic Engagement Office.  
More service events are planned for Spring 2021, and they can be found on JagLife. The next service opportunity is a book drive on March 4, in honor of World Book Day. 
The Office of Civic Engagement provides opportunities for Augusta University students to become involved in community service learning experiences through direct service and engagement. Learn more about the office.