The city of Augusta has posted prospective plans for two major road construction projects — one on Monte Sano Avenue and the other on Walton Way adjacent to the Summerville Campus of Augusta University.
The proposal for Monte Sano Avenue includes improvements for vehicle, bicycle and pedestrian traffic, as well as lighting, landscaping and stormwater upgrades along the portion of Monte Sano between Wrightsboro Road and Walton Way. In addition, the intersections of Monte Sano at Central Avenue, McDowell Street, Helen Street and Bellevue Avenue would all be converted to single-lane roundabouts.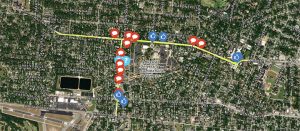 The Walton Way project plans call for reducing the stretch of Walton Way between Lake Forest Drive and Heard Avenue from four lanes to two lanes with a center turn lane and creating a roundabout to improve safety at Hickman Road.
These projects could significantly impact traffic in and around Augusta University, particularly on Summerville. Construction is not expected to begin until 2023 for Monte Sano and 2024 for Walton Way. However, if anyone would like to provide input or share concerns about the projects, the public comment period is open through March 21.
Find out more and share feedback with the city of Augusta at planningatpond.com/waltonway