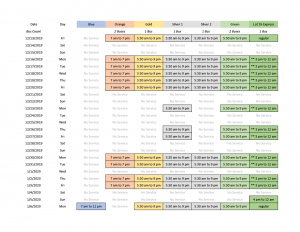 As the fall semester draws to a close, the following schedule changes will be in effect:
Shuttle service
The Blue Route will go offline at the end of the day on Thursday, Dec. 12, and return to service Jan. 6, 2020.
The Orange Route will run between the Health Sciences and Riverfront campuses on weekdays while the Blue Route is out of service.
Lot 55 Express will suspend Sunday service until Jan. 5, 2020.
The Silver 2 and Gold Routes will go offline Dec. 23 and return to service Dec. 30.
Silver 1, Green, and weekday Lot 55 Express routes will follow regular schedules.
No shuttles will be in service on the observed university holidays of Dec. 24, 25, and Jan. 1.
Student dining
Atrium Dining will be closed from 2 p.m. Thursday, Dec. 12, until dinner on Sunday, Jan. 5.
JSAC Food Court, Allgood Café and Education Commons Café will be closed from 2 p.m. Thursday, Dec. 12, until they re-open Monday, Jan. 6.
All other dining locations, including Terrace Dining, the JagStop, McDonald's and Subway, will follow their regular schedules.
Other holiday notices
Augusta University will observe Dec. 24-25 and Jan. 1 as holidays.
Season's greetings and Happy New Year from Jagwire!