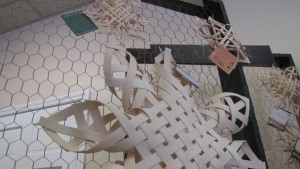 On Monday, June 29, students from the Center for Undergraduate Research and Scholarship (CURS) Summer Scholars Program capped off their six weeks of work by presenting their research to a group of interested onlookers in the JSAC Ballroom before a dinner in their honor.
The program, which is sponsored by the Office of the Provost, Dr. Carol Rychly, VP for Academic and Faculty Affairs, and Dr. Michael Diamond, Senior VP for Research, is unique because it provides undergraduate research opportunities for students in all areas, from Dr. Todd Hoffman's group, which studied author Thomas Pynchon's novel "Vineland" and its critique of neoliberalism, to Dr. Caterina Hernandez's group, which looked at the effects of nerve agents on the brain.
Hernandez, an assistant professor, was particularly excited about the impact the program had on her students.
"They got to do a ton and get their hands dirty, which is what it was all about," she said. "Plus, I'm excited because they're all coming back."
While most of the research supported internal projects or were components of larger studies, Dr. Simon Medcalfe, Associate Professor of Finance and Director of the MBA program in the James M. Hull College of Business, directed his students in a project that was as much about community outreach as it was about learning research skills.
His group proposed to help the Augusta Training Shop understand the full cost of one of their most popular fundraisers.
Founded in 1947, the Augusta Training Shop is a nonprofit that employs adults with mental and physical disabilities. Known primarily for their furniture restoration, in 2012, Executive Director Audrey Murell built a fundraising program around decorative snowflakes made from the cane they were already using in their furniture repair.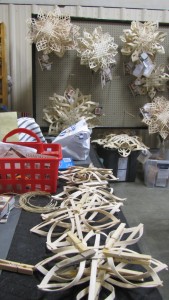 In their first year of production, the snowflakes raised close to $25,000, but when wholesalers started looking to buy the snowflakes in bulk, Murell was unsure what kind of discount she would be able to give them, or even if such a strategy would be profitable.
We've had some big box stores express interest in us," said Wendy Thoman, Executive Assistant at the Training Shop. "They wanted us to come down really low, but we're just not sure whether we can do that or not."
So after a friend of Medcalfe's brought the project to his attention, Medcalfe decided to help them find out.
"I went down and talked to Audrey about the same time the CURS proposal came out, and I thought it would make a great project," he said.
Medcalfe submitted his proposal, and it was one of 13 chosen for the summer session.
His students, two juniors and a senior, quickly went to work.
"As a group, we actually went down there and set up an assembly line where we could start them off with a certain amount of material in order to see how much they use to make each snowflake," said Dantavious Whitaker. "From that, we came back and tried to calculate a direct cost for them."
According to Thoman, the process was complicated by the fact that Training Shop employees make 63 different snowflakes.
To simplify things, the students chose to study three styles they felt were representative of the whole, then examined every part of the process. Along the way, they found themselves welcomed into the Training Shop family.
"The workers just love having people come in," said Alisia Holsey, who handled the accounting portion of the study. "You really don't understand until you go down there and actually see the work they do."
Kelsey Smith agreed. "I thought it was a very rewarding process," she said.
For Medcalfe, the opportunity offered a good lesson in the real-world challenges the students will eventually encounter in their careers.
"You can do all this in a classroom, but it's entirely different when you actually go to a company and try to problem solve," he said. "It's completely different, and I think that's something that this program has allowed this group of students to do."
For the Training Shop, the information could have a major impact on how they plan for the future.
"What the students are doing is helping us figure out the cost, but they're also helping us figure out what we might be able to do in the future," Thoman said. "Just like with any organization, there comes a point with growth where you reach one level and the next step is a huge one. They're helping us understand just where we are so we can make the best possible decisions moving forward."