As part of the Confucius Institute's mission for building bridges between Georgia Regents University and China, four Chinese physicians from Nanjing are finishing up a three-month visit, looking at the differences in health care between the two countries.
The four practice medicine at the Jiangsu Province Hospital of Traditional Chinese Medicine, located in Nanjing, a city of roughly eight million people.
Not surprisingly, population is a factor in the differences they found.
"In China, we have a lot of patients," said nephrologist Dr. Jing Tao. "And they don't need to make an appointment to see the doctor, so if they have questions, they just go to the hospital to see the doctor."
Cardiologist Dr. Xianhui Zhu agreed.
"In China, we don't have family doctors, so the patients can choose the physicians by themselves," she said. "They don't need a referral. Patients in our hospital come to see the doctors at any time, but I have found at GRHealth, they have to schedule first unless they have an emergency case."
To get a true feeling for American health care, the visiting physicians have shadowed their GRU counterparts.
"It's been very nice," Zhu said. "In the cardiology department, the physicians have an extraordinary agenda for me, so every day I can follow a different physician so I can learn a lot from them."
Though the focus has been the exchange of medical information and practices, not all of the experiences have been medical. Last week, the four received a lecture about – and later instruction in – the game of golf from Kuan Kuo, a local golfer. Kuo, an onsite reporter for the Golf Channel who also owns Sho Chin Restaurant Group, was preparing to travel to Seattle to cover this week's U.S. Open.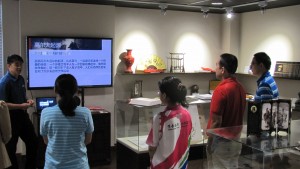 None of the four had every golfed before, which isn't surprising, given the prohibitive cost of the pastime in China.
"In China, it's still considered a luxury activity and not really a sport," Kuo said. "It's very exclusive, and China is a communist country, so it really doesn't like the classification of people."
While it might be easier to dwell on such differences, Zhu said it's equally important to recognize those things that both countries have in common.
"I've found the mission of our own hospital and GRHealth is the same, because we are both focused on patient-centered health and care," she said.
And while the way they practice medicine might be different, the medicine itself is the same … sort of. Though traditional Chinese medicine is far from traditional here in the U.S., physician exchanges similar to this have aided in the dissemination of medical knowledge in all directions.
"I've found a lot of physicians have come to China to give a lecture and they are also curious about China and traditional Chinese medicine," Zhu said. "I find most of them have a comprehensive attitude of medicine – not just Western medicine, but also medicine that comes from other countries, such as traditional Chinese medicine. So we talk about integrating medicine."
That integration, she said, is a growing priority in China.
"Western medicine has rapidly developed, but we have a lot of clinical experiences in traditional Chinese medicine," she said. "So how to express traditional Chinese medicine to the world and how to combine Eastern and Western medicine are the most popular topics for the researchers in China."
Here, that integration led to some entertaining moments during their visit.
"At GRU, we have the Confucius Institute, and they gave the students some lessons about Chinese culture and traditional medicine, which we attended," Tao said. "One of the classes was tai chi, which was very interesting, because the teacher was American."
In the end, such things served to bring everyone closer together.
"I want to express our thanks to GRU and everyone here," Zhu said. "This has been a memorable experience, and while we will be glad to return to our friends in China, we will miss our new friends at GRU."