For any parent, having a newborn who has trouble breathing can certainly be troubling.
This happens more often than some parents realize, and often can be attributed to laryngomalacia, a softening of the tissues of the larynx. Laryngomalacia — a common cause of high-pitched, noisy breathing, or stridor — usually goes away on its own.
However, in rare cases, like those of Freddrick Griffin Jr. and Asai Owens, the noisy breathing can be something more serious.
These two infants were treated at Children's Hospital of Georgia back-to-back, which is quite unusual considering the rarity of their condition.
Freddrick's mother, Margaret Bafford, noticed her son's stridor soon after he was born on April 13.
"I was told that the noise was just the one babies make while trying to breathe outside the womb," she said.
She kept researching what could cause it as Freddrick's breathing got worse, and he was having a lot of trouble feeding as well. She learned about laryngomalacia online.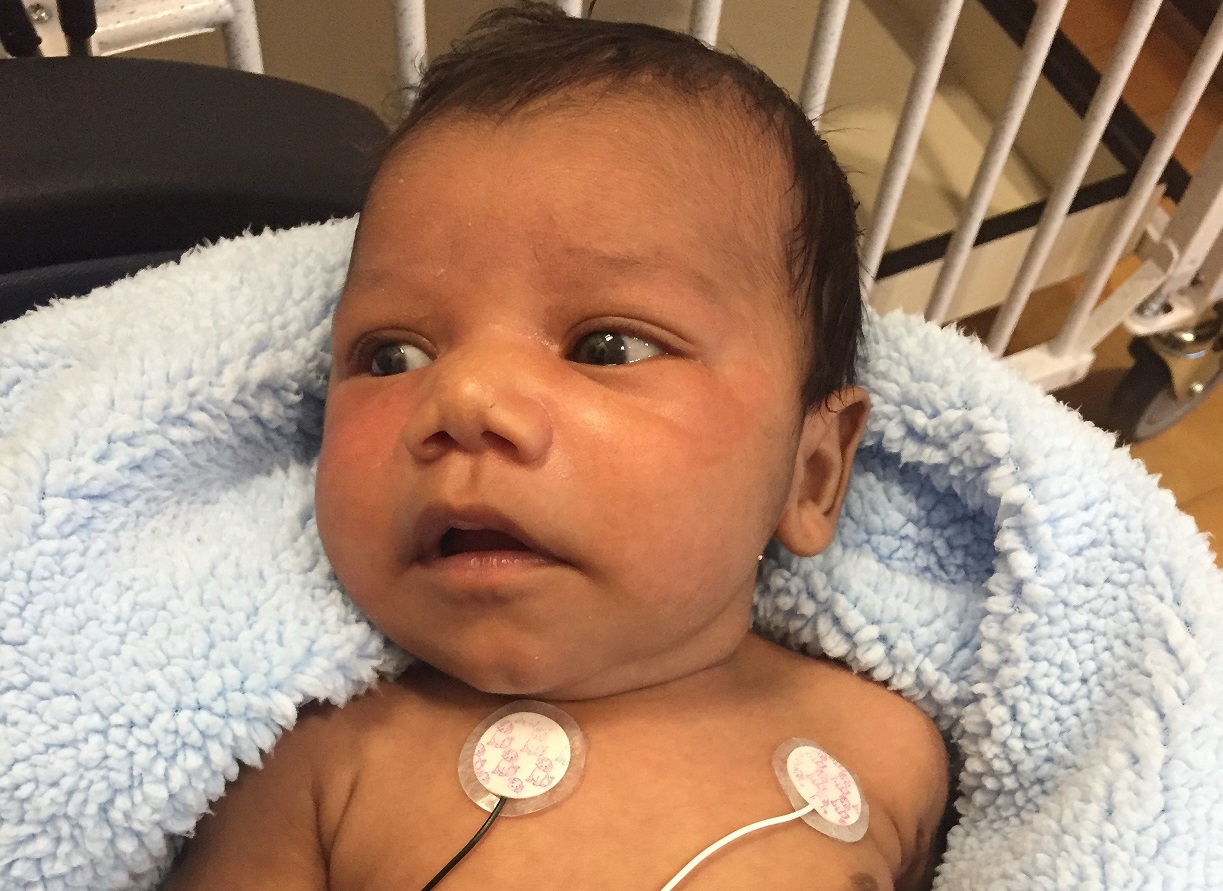 Bafford didn't give up and took a video of Freddrick's breathing to show CHOG's Dr. William Carroll, a pediatric otolaryngologist, which is head and neck surgeon (also known as ENT — ears, nose and throat).
"After the scope [was done], they brought in five doctors," Bafford said. She was shocked to learn her son had a vallecular cyst, a non-cancerous growth at the back of the tongue, which causes airway obstruction. "After they told us what it was, we were very scared."
That appointment was on a Friday. Bafford and her husband, Freddrick Griffin Sr., described that weekend as the most difficult one they've ever had.
The following Monday, April 29, the 3-week-old baby underwent surgery to remove the cyst. The surgery took longer than expected, as the cyst was quite large, but they learned afterward the surgery was a success. Freddrick spent the rest of the week in Pediatric Intensive Care Unit (PICU).
Bafford describes the procedure as "being like a light switch," as Freddrick was ready to eat normally not long after he arrived in NICU.
Now, Freddrick is back home in Palm Branch, South Carolina, and doing just fine, sleeping through the night, she said.
"The care we received and how quickly we got in for our surgery, it blew my mind. I left so many good reviews," Bafford said. "The staff in the NICU were just phenomenal."
Typically, Carroll may go a year or more without seeing another case like this.
"Vallecular cysts require surgery and oftentimes can be more severe than laryngomalacia in the airway obstruction they cause," Carroll explained, pointing out that the surgery has gotten more advanced with new technologies, as well.
"Diagnosing vallecular cysts earlier is beneficial to the baby because otherwise, the cyst can grow and cause substantial airway obstruction to the point of being a life-threatening concern for the baby. The babies with these cysts often burn more calories than they take in by trying to breathe around the cyst, so their growth is a big concern."
Despite the rarity of a vallecular cyst, Carroll saw two babies who had one in a short period of time.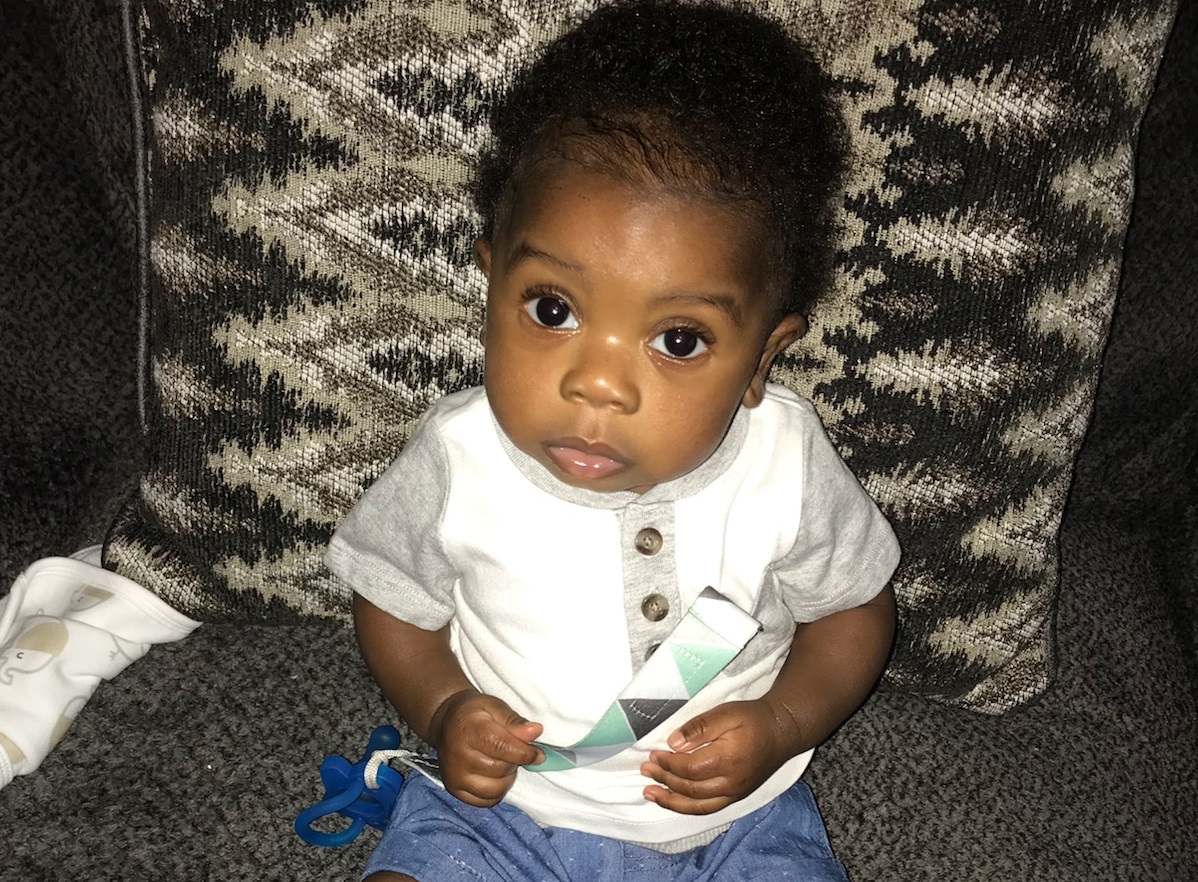 Asai Owens of Grovetown, Georgia, was born on April 23, just 10 days after Freddrick.
"Two weeks after his birth, I noticed his breathing was really loud," said his mother, army dental assistant Azjalynne Lewis, who is currently stationed at Fort Gordon. She was also told this was normal.
Lewis did some research as Asai's stridor continued. After visiting another pediatrician, she was told it was likely laryngomalacia, or possibly even nasal congestion, and would go away on its own.
At Asai's eight-week visit to the pediatrician, the breathing problems had not subsided. Lewis also noted that he was only 9 pounds, 5 ounces and had not been growing. This led her to CHOG and an appointment with Carroll on July 9, where Carroll noticed the cyst on the back of his tongue causing breathing and feeding difficulty.
"It looked like he was stuck on his tongue or he was choking," Lewis said.
Two days later, Asai underwent surgery, spent one night in PICU and went home the next day.
"He started eating pretty fast, not choking like he used to, trying to get air," Lewis said.
Now, Asai is home, breathing and eating normally.
"For a whole month, he wasn't growing," she said. "Now he's up to 12 pounds, 7 ounces."
If parents notice their infant is experiencing trouble breathing and eating, Carroll recommends the child be seen by a pediatric ENT specialist immediately. It could very well be laryngomalacia, but it could also be something much more serious that requires treatment.