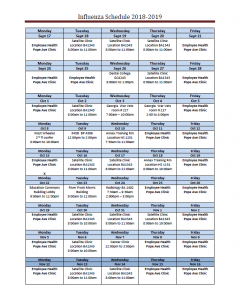 The Children's Hospital of Georgia at Augusta University recently worked with the Georgia Hospital Association on a statement for this year's flu season. The full statement reads:
Last year's flu season proved to be one of the worst in almost a decade. Hospital emergency rooms (ERs) were inundated and handled the influx of patients by adding extra staff and resources, including a mobile ER at Grady Health System.
"GHA is working closely with state agencies and hospitals to prepare for the upcoming flu season, which is October through May," said GHA President Earl Rogers. "Flu shots are already available and the Centers for Disease Control and Prevention (CDC) recommends getting vaccinated by the end of October. Not only does it protect you, it helps stop the spread of the virus and protects seniors and infants who are highly vulnerable to the flu."
Augusta University Medical Center and its Children's Hospital of Georgia – the state's public academic health system – saw an increase of as many as 100 patients a day in the ER with flu or flu-like symptoms during the peak of the 2017-18 season.
James Wilde, M.D., an Augusta-based emergency physician and infectious disease specialist at Children's Hospital of Georgia, says getting the flu vaccine is the first line of defense. Other precautionary measures, such as staying away from sick people, frequent hand-washing and covering coughs, can help stop the spread of flu.
Though hospitalizations were up last year, most healthy people do not require a visit to the doctor for the flu, Wilde points out.
 "A few days of bed rest accompanied by lots of fluid and Tylenol or Motrin should suffice. Unless you have underlying conditions or are over age 65, you just have to let it run its course.
 "Another key point for the public to understand is that antibiotics kill bacteria but will do nothing for the flu and, potentially, could make things worse," says Wilde. "The flu is a virus, and even antivirals, like Tamiflu, may only shorten symptoms by a day or two. That difference may be important for people with underlying medical conditions but is hard to justify in the healthy."
 Individuals who think they may have the flu should follow the recommendations of the CDC for when to go to the hospital. According to the CDC, symptoms in adults that warrant an emergency room visit include trouble breathing, chest pain, and persistent vomiting. Those who do not have the flu, but go to the ER, risk catching it from those who do. However, anyone who is concerned about a serious or life-threatening illness should go to the ER.
Flu activity in the U.S. is low now, but it is expected to pick up in the Fall. Once that happens, hospitals statewide will begin implementing policies to safeguard visitors, including preventing children under the age of 12 from visiting loved ones who are patients.