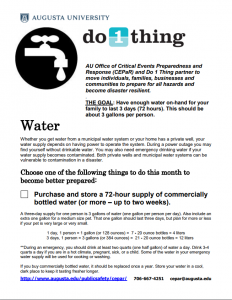 In case of an emergency, do you know how much water you should have on-hand for your family to last 3 days? You should have close to 3 gallons of water per person. Do you have that?
The Augusta University Office of Critical Event Preparedness and Response (CEPaR) has partnered with Do 1 Thing to help the community become better prepared for emergencies and disasters, and is working to keep you informed.
Do 1 Thing and Augusta University have recently released a flyer on how to make sure you will have emergency drinking water in case of a disaster. It doesn't matter if your water comes from your home or from a municipal water system, your water depends on having power to operate. Without power, both water systems and wells can become vulnerable to contamination.
This month, Do 1 Thing offers you information on ways to become better prepared in case of disaster by providing steps to make sure you have drinkable water.
Do 1 Thing is a 12-month program that makes it easy for you to prepare yourself, your family and your community for emergencies or disasters.
For more information, email John Ryan or call (706) 495-6958.