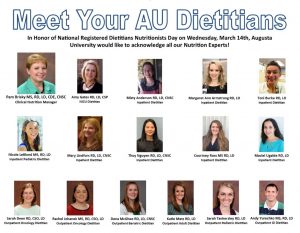 National Nutrition Month is celebrated in March. Created by the Academy of Nutrition and Dietetics, the campaign stresses the importance of making good food choices and developing healthy eating habits.
Each week throughout March, AU Health's dietitians will provide tips for staying healthy and getting to most out of your life. This week — Activity Tips.
But before the tips, a bit about Registered Dietitian Nutritionist Day:
In 2018, the Academy of Nutrition and Dietetics celebrates Registered Dietitian Nutritionist Day on Wednesday, March 14.  As the nation's food and nutrition experts, registered dietitian nutritionists are committed to improving the health of their patients, clients and communities.  First celebrated in 2008, Registered Dietitian Nutritionist Day commemorates the dedication of RDNs as advocates for advancing the nutrition status of Americans and people around the world. Registered Dietitian Nutritionist Day, celebrated each year on the second Wednesday in March, was created by the Academy of Nutrition and Dietetics to increase the awareness of registered dietitian nutritionists as the indispensable providers of food and nutrition services and to recognize RDNs for their commitment to helping people enjoy healthy lives.
Learn more about Registered Dietitian Nutritionist Day.
Activity Tips
Being physically active can improve your health — today, tomorrow, and in the future. However, most people do not get enough physical activity. People of all types, shapes, sizes and abilities can benefit from being physically active. The more you do, the greater the health benefits and the better you'll feel. The following information and tips can help you learn ways to add physical activity to your life.
Aim to get in a 20–30 Minute Walk or Jog
Getting up just 30 minutes earlier in the morning will give you plenty of time to get in a good walk (or jog or run).
Moving first thing in the day boosts your serotonin levels, provides energy to the body, and also helps you focus better throughout the day.
It is also an easy way to improve your metabolism to help manage your weight.
Lift Something Heavy for 5 Minutes Every Day
Don't have time to lift weights? Here's an easy way to combat that issue: pick something heavy, whether it be a kettlebell, a dumbbell, or even a household item you can grasp in your hands. Lift one of these items for just five minutes, preferably over your head like you would if you were in the gym, by your sides to work your arms or even hold it while you do a few squats.
If you can do these three different times throughout the day, you've lifted weights for 15 minutes without realizing it.
Resistance training not only improves your metabolism, but also boosts testosterone in the body that improves your sense of motivation, focus and even your energy.
Don't Over Sit Your Welcome
We need to stand more throughout the day, even if that's while chatting with friends, talking on the phone or just getting up in between relaxing activities.
If you like to watch TV, be sure not to sit there for hours on end while doing so.
If you work at a computer all day, get up and move around or try to stand and work, if possible.
Sitting too long makes you tired, can cause brain fog, increases your insulin levels and slows down your metabolism.
The body likes to move; give it what it needs.
Practice Active Errands and Commutes
When commuting to work or running errands, it's important to be active during those activities when you can.
For instance, if you can take the stairs more often, do it. If you can walk to work, do it. If you can park farther away at the store, do it. You get the idea.
Do Some Sort of Stretching Per Day
Stretching is one of the most overlooked exercises that can improve your mood.
It releases muscle tension, prevents muscle cramps, improves lymphatic flow and also keeps digestion working well. Stretch in the morning a little and a little more at night before bed. Even just a couple of minutes will make you feel better!
Spend a Little Time outside Each Day
Take a stroll around your neighborhood or walk through a local park each day if you live near one.
If you have a dog, take him or her for a five-minute walk down the street. Exercise outside if you are able.
Being active outside, even just for a few minutes, is a great way to lighten your spirits without even trying. It puts you in touch with nature, which studies show can actually benefit our brains and prevent depression.
Outdoor activity also exposes us to the most natural source of vitamin D available to us: the sun.
While not everyone may enjoy yoga, its many benefits are so profound that we should all at least give it a shot.
Don't let yoga intimidate you if it seems out of reach or strange. It's actually just a fluid way of moving your body, stretching everything out and being kinder to your body through movement.
Try some beginner You Tube videos; even just 10 minutes is a great place to start.