After raising more than $1 million in gifts last fall, Augusta University's Augusta Gives is back for a second year on April 21.
Once again, the Augusta community will have the opportunity to give back to the institution that has given so much, especially over the past year in the fight against COVID-19.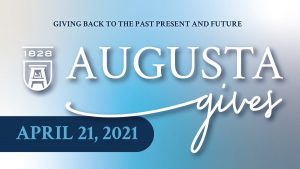 Funds raised will help the university address its greatest priorities. Once again it will be held virtually, which means donors will be able to choose an initiative to support that means the most to them, or in which they believe their gift could have the greatest impact.
"During Augusta Gives, you can choose the area that means the most to you from the many giving opportunities listed at augustagives.com," said Kelly Schulte, director of annual giving in Philanthropy and Alumni Engagement. "Whether you have affinity for a particular college or school or you have a heart for one of our health care institutions, student programs or athletics, you are sure to find something that moves you to give."
Augusta Gives officially begins at 5:32 a.m. on Wednesday, April 21, and ends at midnight. There will be 18 hours and 28 minutes of fun, fundraising and celebrating all that makes AU great.
"Augusta Gives provides the opportunity for our alumni, friends, faculty, staff, and students to come together and celebrate Augusta University and AU Health by giving back to the areas of the Augusta University enterprise that are most meaningful to them — all in one day," said AU Vice President for Philanthropy & Alumni Engagement Deborah Vaughn. "The continued investment by our donors in the lives of our students, faculty, staff and patients has a lasting impact, and we remain grateful for this ongoing support."
You can be a part of Augusta Gives by doing three things:
Give: Make your gift online at augustagives.com.
Share: Use #augustagives to help spread the word on social media.
Post:Take a selfie and post to #augustagives to show your AU pride!
Keep checking back at augustagives.com to see the fundraising progress, and enjoy a very special day on April 21.