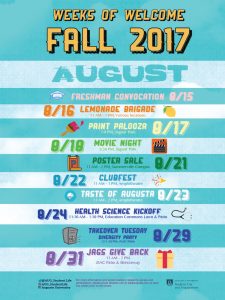 Augusta University welcomes back Jaguar Nation with a week of special activities designed to assist new students acclimate to their new school and returning students reconnect with campus life.
Below are some of the week's more notable events.  Visit the Weeks of Welcome webpage for a complete rundown of events.
Lemonade Brigade
Wednesday, August 16, 11 a.m.—1 p.m. Various Location
Need a refreshing drink on your way to class? Stop by one of the Lemonade Brigade tables staffed by student leaders, staff, and faculty members for a cool cup of lemonade or water.
CREW's Paint Palooza
Thursday, August 17, 7—9 p.m. Jaguar Park
Celebrate the start of the school year with a night of music and dancing. Join The CREW for their first event of the year, Paint Palooza. All participants are asked to wear a plain white shirt or clothing they do not mind getting paint on.
ClubFest
Tuesday, August 22, 11 a.m.—1 p.m. D. Douglas Barnard Jr. Amphitheatre
Join the Student Life & Engagement for ClubFest Fall 2017. Come learn about the various student organizations around campus while enjoying food, games, and prizes! There is something for everybody, and it is a great way to familiarize yourself with what Augusta University has for you.
Taste of Augusta
Wednesday, August 23, 11 a.m.—2 p.m. D. Douglas Barnard Jr. Amphitheatre
New to campus?  Or still learning Augusta? Come out and get a "taste" of Augusta in one stop!  The 'Taste of Augusta' is an interactive event that allows local businesses and university departments to promote their services and build relationships with new and returning students.  The event also provides a way to learn about available opportunities for Augusta University students.