The mission of Augusta University Campus Recreation is to foster health and wellness across the campus community. Campus Recreation serves an important role in the lives of AU students, as physical activity is essential to wellbeing.
With the help of the department's four graduate assistants — Ladi Dada, Xavier Hidalgo, Lorenzo Rodgers and Andy Lukas — the department has seen record-breaking numbers for the fall 2019 semester.
"What makes this group of graduate assistants unique is how they band together during outreach events and promote Campus Rec as a whole," said Patsy Davis, associate director of Campus Recreation. "Gone are the days of silos. I set the bar high for these students at the beginning of the year, and they are all doing their part and more."
Campus Recreation started off the year with a program called Find Your Fit in 30! that incentivized students to exercise. The program offered a free T-shirt to all students who visited the Wellness Center 30 times between Sept. 1 and Nov. 1. A total of 103 Augusta University students completed the challenge.
"Students make up 80.5% of the Wellness Center's visitors, so focusing on student participation is so important to us," said Davis. "We're really pleased with the participation from our first run of Find Your Fit in 30! and hope to continue the program in future semesters. Over 300 students attempted the challenge, so although we only had 103 winners, the program helped hundreds more."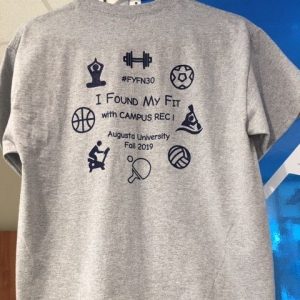 This semester, the department also introduced "Recess," an event that helps students learn about intramural sports, how to get registered to play and all the programming at the Wellness Center. The games at Recess include trash ball, giant Connect Four, giant Jenga, ladder ball and more.
By introducing these creative programs, Campus Recreation's Wellness Center has seen massive increases in use. September 2019 saw 627 more check-ins than September 2018, and the month had 10,941 swipes in total.
October 2019 saw a whopping 1,470 more check-ins than October 2018 — an increase of over 14 percent. That makes this past month the department's best October to date, or the busiest October since the Wellness Center opened in 2003.
Davis gives all credit for Campus Recreation's recent strides to its staff, including graduate assistants and student employees, as well as the student body.
"Augusta University's Campus Recreation staff is dedicated to making a mark on students' lives," said Davis. "We know that each student who begins a journey toward fitness and holistic health becomes more successful both in and out of the classroom."
Campus Recreation offers intramural sports, club sports, group and instructional fitness classes, personal training, and outdoor adventures. To learn more about Campus Recreation, visit their website or call 706-721-6800. To see their upcoming events, visit the university calendar.