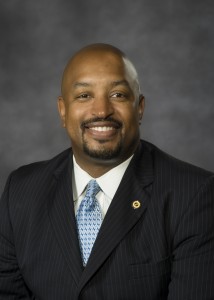 AUGUSTA, Ga.- Quincy Byrdsong, the Associate Vice President for Health Sciences Strategic Initiatives and Engagement at Virginia Commonwealth University, will join Georgia Regents University as the Vice President for Academic Planning and Strategic Initiatives on August 1.
In his new position, Byrdsong will lead and support a range of major initiatives as well as work closely with the Provost and other senior leadership to execute the development new academic programs.
"I am pleased that GRU has been able to recruit such an excellent person to assume responsibility for advancing our strategic academic efforts," said Dr. Gretchen Caughman, Provost of Georgia Regents University. "Dr. Byrdsong has demonstrated impressive expertise in strategic planning and we are delighted he will bring his knowledge and experience to our institution."
In his associate vice president role at VCU, Byrdsong managed strategic planning and supported the development of academic and research initiatives. Prior to being named to that position, he served as the Executive Director for Research Administration and Compliance for VCU's Medical Center. In that role, he created the institution's Clinical Trials Implementation Plan and led efforts to increase compliance to federal and research industry standards.
Byrdsong is an award-winning author whose work has been featured in publications such as the Journal of Clinical Research Excellence and the Journal of Clinical Research Best Practices. As an expert in areas such as strategic vision and health science programming, Byrdsong has become a highly sought-after speaker who has shared his work at numerous research conferences throughout the country.
He received his bachelor's, master's and specialist degrees from Middle Tennessee State University. He also earned his doctoral degree from Tennessee State University.
###