A beloved educator at the Medical College of Georgia's Northwest Campus, a leader of graduate medical education at WellStar Kennestone Hospital in Marietta, and an infectious diseases physician who has helped MCG students and faculty navigate the COVID-19 pandemic have been honored by Dr. David Hess, dean of the Medical College of Georgia.
Dr. Paul Brock, a general surgeon with the Harbin Clinic in Rome, Georgia, and Dr. G. Waldon Garriss III, who leads the internal medicine program at WellStar Kennestone received Community Advocacy Awards during Hess's annual State of the College Address, and Dr. Rodger MacArthur, professor of infectious diseases in the MCG Department of Medicine, received the Professionalism Award.
"Drs. Brock, Garriss and MacArthur are the embodiment of MCG's investment in the next generation of physicians," Hess says. "Dr. Brock has been a cornerstone of the Northwest Campus since its inception and has been a respected mentor to countless students. Dr. Garriss also trains MCG students, not only when they are on clinical rotations in Marrietta, but at regional campuses across the state, where he travels on his own time to teach heart sounds, and Dr. MacArthur has essentially been available 24/7 to help quell the fears of students, faculty and the public related to the pandemic."
Brock, a longtime member of the Rome medical community, officially joined the MCG Northwest Campus faculty when it opened in 2013, but he was key in getting buy-in from other community physicians as soon as plans for the campus were announced in 2010, says Dr. Kathryn Martin, MCG associate dean for regional campus coordination.
Often called a "fatherly figure" by students, he is known as a staunch student advocate who will support students any way he can — from picking up a phone to make a call on their behalf to driving them between hospitals and surgical cases. He is consistently named Faculty Member of the Year by Northwest Campus students.
Brock is a 1983 graduate of Emory University School of Medicine, where he also completed his general surgery residency in 1988.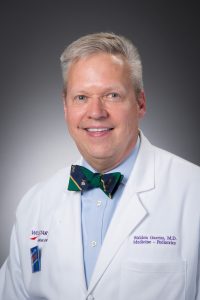 Garriss, an internist and pediatrician, has practiced at WellStar Kennestone since 2011 and has led their Internal Medicine Residency Program since 2014. Prior to that, he worked at Vanderbilt University Medical Center, where he served in a variety of roles, including associate chair of ambulatory education and associate director of the Internal Medicine Residency Program.
He helped build the WellStar Internal Medicine Residency Program and has since helped the hospital system start four other Accreditation Council on Graduate Medical Education-accredited residencies and fellowships with more than 140 residents and fellows.
He is an honored educator and has been recognized with several MCG Exemplary Teaching Awards. In 2019, he received the Dean's Award for Excellence in Mentoring from the MCG Northwest Campus, and in 2015 he received the J. Willis Outstanding Bedside Teacher Award from the Georgia Chapter of the American College of Physicians. He was elected a master of the ACP the same year.
He earned his medical degree from the University of North Carolina Chapel Hill in 1993, completed an internal medicine and pediatric residency at Vanderbilt in 1997, and a fellowship in general medicine at the University of Virginia Health Sciences Center in Charlottesville in 1999.
MacArthur joined the MCG faculty after spending 20 years in the Division of Infectious Diseases at Wayne State University in Detroit, Michigan. He is an NIH-funded researcher, formerly heading the WSU AIDS Clinical Trials Group (ACTG) Clinical Research Site.
He is widely recognized as an expert in HIV antiretroviral therapy, resistance to antiretroviral drugs and sepsis. His current research interests include antiretroviral resistance; adherence to antiretroviral therapy, especially in underrepresented populations; influenza; and SARS-CoV-2. His clinical interests are in global health.
He previously served on several ACTG committees, including the Underrepresented Populations Committee. He was the HIV Medicine Association liaison to the Infectious Diseases Society of America Public Health Committee from 2013-16.
MacArthur is extensively published, with over 100 publications in peer-reviewed journals.
He is a 1983 graduate of the University of Illinois College of Medicine in Chicago, completed an internal medicine residency in 1986 at the Cleveland VA Medical Center and Case Western Reserve University and an infectious diseases fellowship at The Johns Hopkins Hospital in 1988.