AUGUSTA, Ga. – Lynn Bill, a registered nurse and Certified Correctional Health Professional with more than 30 years of award-winning leadership and experience, has been named vice president of a new division of correctional health care at Augusta University. Bill was formerly the managing director of Georgia Correctional HealthCare, a clinical service provided by the university to the state's adult prison population through an interagency agreement with the Georgia Department of Corrections.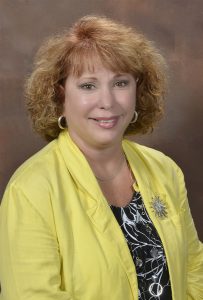 Augusta University's new, broader division of correctional health will expand to include clinical oversight of not only the medical care of incarcerated adults through GCHC, but also incarcerated juveniles within Georgia's Department of Juvenile Justice, beginning July 1.
"We are so fortunate to have someone of Lynn's clinical and administrative talent to lead our correctional health team," said Lee Ann Liska, executive vice president of clinical affairs at Augusta University and CEO of AU Medical Center. "She has a proven track record that will serve this population well, especially with the addition of juvenile justice patients."
Since 1997, the Georgia Correctional HealthCare program at Augusta University has delivered care to Georgia's incarcerated population in partnership with the Georgia Department of Corrections. GCHC employs nearly 1,200 full-time employees who provide health services to roughly 54,000 adult inmates in about 60 facilities across the state. The larger correctional health division will extend that care to about 1,278 juveniles in 26 facilities this summer.
"Prison health care is one of the most demanding endeavors in the health care industry, requiring the concerted efforts of some of the most uniquely skilled and dedicated professionals in the field," said Dr. William P. Kanto, Jr., vice president of clinical outreach at Augusta University. "Lynn Bill has dedicated most of her career to caring for incarcerated individuals in Georgia's prison system. Her experience and compassion are unparalleled in this unique population, and we are pleased to announce her appointment."
Bill has a combined 34 years of progressive correctional health care experience with both GCHC and the GDC, including positions as managing director and director of patient care services. The Georgia Department of Corrections named her Employee of the Year in 1990, and she earned its Commissioner's Coin of Excellence in 2010. In addition, she has been recognized by Who's Who in Nursing and with an Excellence in Nursing designation by the March of Dimes.
She earned her Nursing degree from Georgia Southwestern State University and her Master of Public Administration from Georgia College & State University. She also holds a faculty appointment at the College of Nursing at Augusta University.
Bill is an active member of a number of correctional health care organizations and has served on the boards of the American Correctional Health Services Association and the Academic Consortium on Criminal Justice Health. She has chaired the statewide Continuous Quality Improvement and Infection Control/Products Standardization Committee and serves on the statewide Pharmacy and Therapeutics, Staffing Committee. She is a Certified Correctional Health Professional through the National Commission on Correctional Health Care.