AUGUSTA, Ga.—Susan Barcus, senior vice president for advancement and chief development officer at Augusta University, has announced her resignation, effective March 31. She has served as the chief fundraiser for both the university and the health system since 2011.
Barcus has accepted the position of chief development officer at Kettering Health Network in Ohio, and president of Kettering Medical Center Foundation. The position takes advantage of Barcus' fundraising and leadership skills and will allow her to spend more time with her children.
"We are grateful for Susan's contribution to the university during a time of incredible transition. She has been a great servant leader, fostering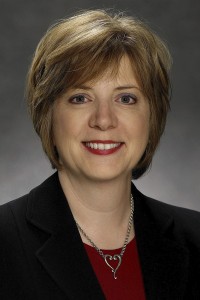 relationships as well as helping us find the resources to build important opportunities for our students, faculty and researchers," said President Brooks A. Keel. "Susan will be missed, but I understand very well the importance of making decisions that bring you closer to home. I wish her well and know that she will be a tremendous asset to her new organization."
Over the course of her more than five years of leadership, the newly consolidated university and growing health system overhauled its advancement operations to better meet the needs of the new enterprise and began building a culture of philanthropy around the institution's new and expanded mission. Key accomplishments of her tenure include raising $23 million for the J. Harold Harrison, M.D. Education Commons, leading the effort to raise $12.5 million for the M. Bert Storey Research Building, and leading the institution's first comprehensive campaign to its completion, raising over $143 million in four years.
"It has been a joy to create a collaborative fundraising program in a highly complex environment working with incredibly talented executives, faculty, staff and students," Barcus said. "It has been inspiring to watch the number of individuals who have been willing to make a generous investment in the work we do for our students, patients and families."
Russell Keen, executive vice president for external affairs and chief of staff to the president, will provide interim leadership to the Advancement Division until the search for a permanent replacement can be completed.
A reception in celebration of Barcus' career in Augusta is planned for March 24. Additional details will be made available in the coming days.