One of Augusta University Medical Center's own performed Sept. 23 as part of Brave Hearts for Broadway.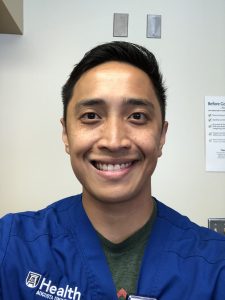 Francis Battad, an occupational therapist in the Adult Acute Care Rehabilitation section, performed in Let Us Entertain You featuring The FrontLine Choir and Friends, the virtual Broadway celebration starring frontline workers.
Brave Hearts for Broadway is an organization that brings arts-minded frontline workers together with the theater community to keep the arts alive via supporting The Actors Fund, the national human services organization that provides a safety net for performing arts and entertainment professionals.
"Frontline and essential workers have captured the heart of the world and we can do even more by giving back to my other community — theater," said Michael E. Merritt, founder of Brave Hearts for Broadway and director for the virtual celebration.
"There's a way frontline workers could pay it forward and help those who work in theater," he said. "Not just performers but the cleaning staff as well. Everyone who works in theater. And also, have some fun along the way. Trust me, after what we've been through these past few months, we could use some fun. So, until the Great White Way opens again, we'll pitch in and help keep theater alive."
Learn more about Brave Hearts for Broadway.