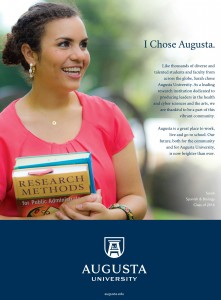 Augusta University and advertising agency Wier/Stewart won big at the 31st Annual Educational Advertising Awards, earning distinction for the university's "Discover What's Next" and "I Chose Augusta" advertisements in the New Media and Newspaper Single category respectively.
In addition to earning two gold awards, the university and Wier/Stewart also won a silver award and two merit awards, making Augusta University the ceremony's most-recognized university in Georgia.
Augusta University has worked closely with Wier/Stewart on a number of recent advertising efforts, including the ongoing effort to re-brand the university and health system.
Please join us in congratulating our colleagues in the Division of Communications and Marketing and Wier/Stewart for their outstanding achievements.