Over the past several years, electronic sports (esports) has grown in popularity in the United States and globally, including finding a space in higher education where more than 600 colleges and universities sponsor a varsity esports team.
Part of the allure of esports is that gamers can compete as teams or individually, and matches can be held digitally over the internet or in-person with audience sizes that vary wildly depending on the title. On top of that, fans from all over the world can watch esports events live using streaming services, including the most popular medium Twitch.
Augusta University is no stranger to esports.
AU was a founding member of the Peach Belt Conference's esports initiative, which features divisions that play League of Legends, Overwatch, Rocket League and Valorant. Augusta University's first iteration of the team competed mostly on their own personal equipment and without a designated area and, following the 2019-20 season, the core members of the team graduated, and esports became dormant on campus.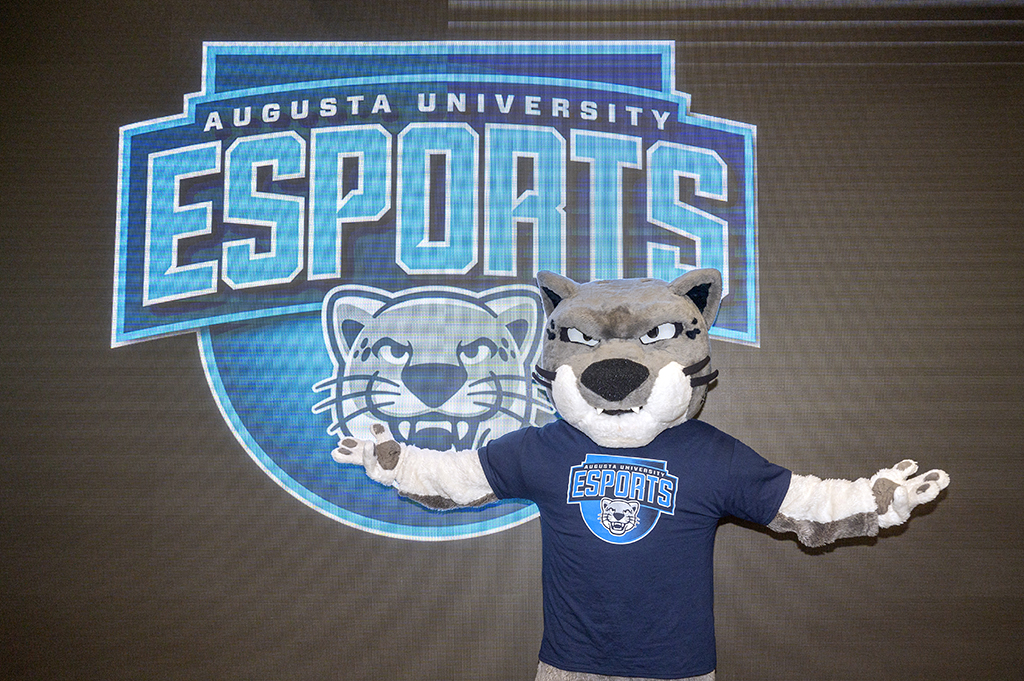 But there is a new effort that has successfully brought esports back to campus, and with that new energy has come new success.
On Oct. 23, AU unveiled a brand new esports arena, located on the third floor of the Hull McKnight Building of the Georgia Cyber Innovation and Training Center, with featured guest speakers Neil J. MacKinnon, PhD, provost and executive vice president for Academic Affairs, Russell Keen, EdD, executive vice president for administration and chief of staff, Michael Shaffer, executive vice president for strategic partnerships and economic development, Susan Davies, PhD, vice president for enrollment and student affairs and Colin Stewart, PhD, associate vice president for student affairs.
"Esports is about more than just playing video games," MacKinnon said. "There are academic aspects to this endeavor that will touch more than just the students who are on this team, including students in our animation program who will be able to gain real-world experience in game design and game animation. We are truly excited about not only having esports back at Augusta University, but also being able to integrate it across multiple disciplines on campus in ways that increase our opportunities to be a university like no other."
Also in attendance were youth gaming groups within the community including Augusta's Gnome Gamers and Nxt Gen Gaming, which is located in Grovetown.
In a nod to the history of gaming, the ribbon-cutting featured a replica sword from The Legend of Zelda to officially open the new space, which features 16 Dell Alienware computers, headphones and monitors for competition.
"This program will not only serve our current students but also be able to attract new students to campus. I hope to see our students winning championships, developing leadership and teamwork skills, building community engagement and making core memory moments," Stewart said.
Scott Thorp, chair of the Department of Art and Design, said he's passionate about building a better educational experience for the students and sees the opportunity to create a pathway between his department and esports.
"While much of our focus is on the enhancement of on-the-ground and in-person initiatives, esports opens a pathway to a whole new platform where we establish an engaging and interactive online campus community," he said. "Since many of our students are online already, it makes sense to integrate our student life into the digital realm."
Thorp continued, "Our students are thrilled about the esports initiative. Every time I tell someone, their reactions are a combination of surprise and excitement. I believe we are ahead of the curve on this initiative."
A.B. Osborne, director of the animation program at AU, said most of his students want to work professionally on video games, and they worked on an esports hype video for the grand opening.
"As animation continues to grow, game development is going to be a large part of what we do," Osborne said. "At the moment, we're finding a lot of overlap in several academic areas because it gives students the chance to work with the production around something they love. We're only going to be more involved moving forward."
Osborne noted that most of his students aren't really into sports, but they love games, which in turn gives them something to participate in, root for and build community with.
"This esports arena is phase one, but it only grows from here," Osborne said. "With the announced animation expansion, our plan includes a new esports arena in the second animation building. We take our gaming seriously."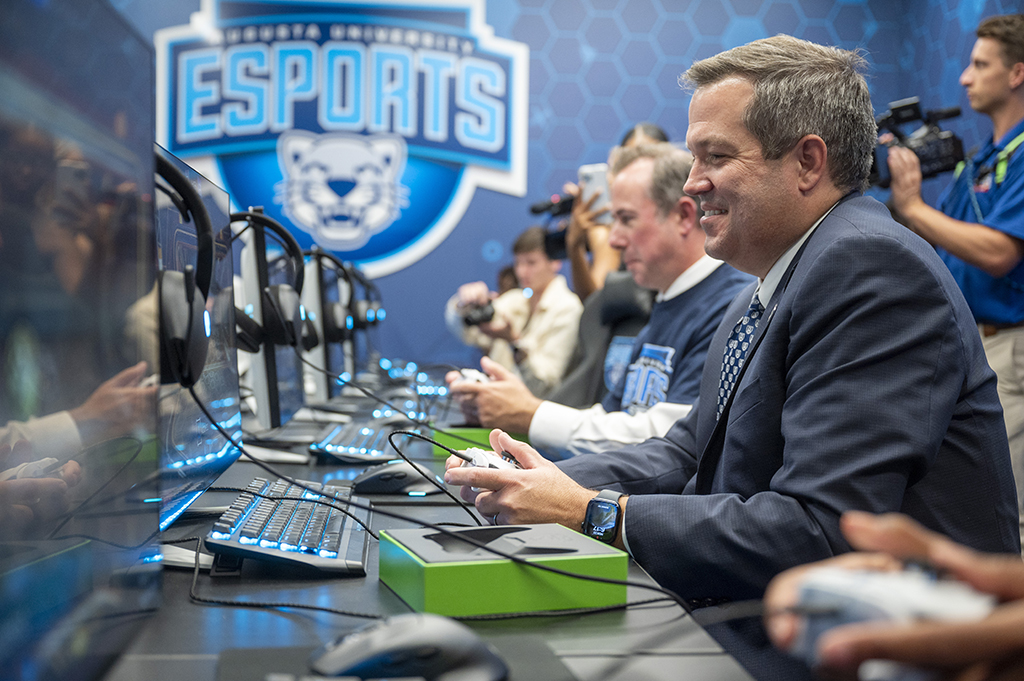 Thorp said esports needs a more permanent physical home, "a clubhouse of sorts." He said the current location will serve as a central hub where students can show support for one another or enhance their skills.
"While the online environment is great for collaboration, there is still value in coming together to share experiences. Plus, a physical space outfitted with top-notch computers, gamer chairs and crazy lights adds a touch of authenticity and pizazz to the program," Thorp said.
Thorp also mentioned the link between esports and animation and the programs AU is offering will help that program continue to experience rapid growth.
"Over the next six years, we anticipate growing to around 400 animation students. These students will be creating 3D characters, designing gaming environments, working in virtual reality and augmented reality environments," he said. "It's all interconnected. Plus, we plan to introduce a concentration in game design in the future. Animation students are already gamers in their own time. The re-introduction and expansion of esports at AU will give them an added sense of pride and deeper connection to the institution."
Surveys conducted by Student Affairs over the past few years have indicated gaming as part of their top 10 interests while it also focuses on a way to be inclusive whether students are on campus or not.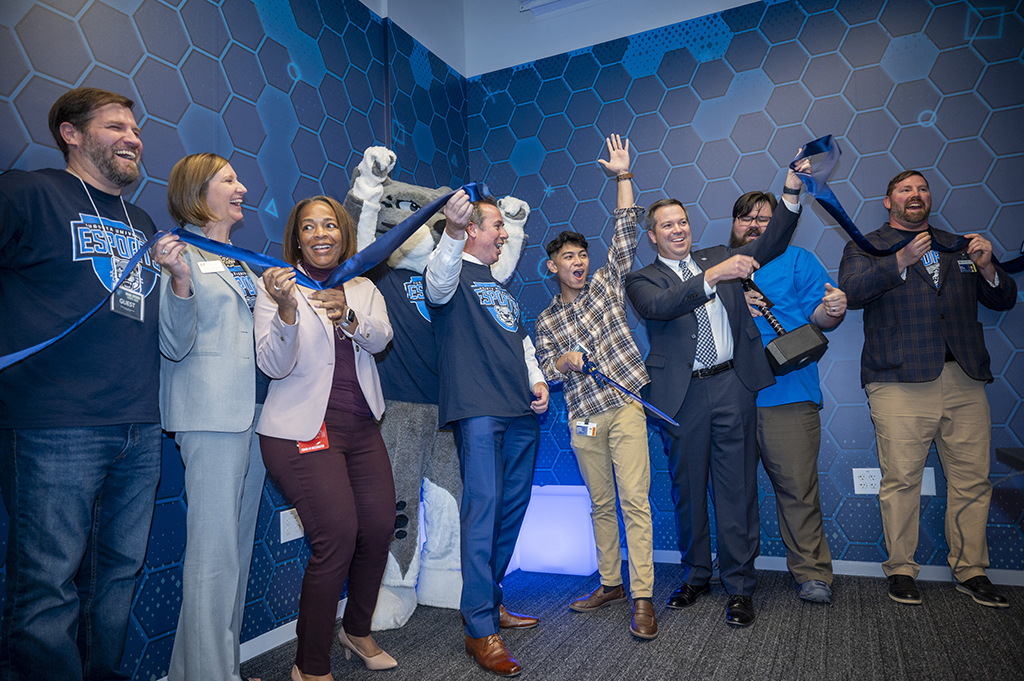 Noah Bowers is a senior Digital and Visual Storytelling major who has always had a heavy interest in gaming and has been playing or watching video games since he was child. He started following esports in 2015 and plays and enjoys watching digital competition of all kinds. Bowers is excited about the partnerships esports will have with the upcoming programs AU will offer.
"I'm extremely excited for the future programs at AU that will incorporate and help develop the esports program. I personally am a fan of the broadcast/communication program being involved with the live production of esports events and competitions. I think it's a great opportunity for students who want to gain a foothold into this new, growing industry."
Bowers said the draw to esports from the live production aspect comes from his passion being a film student.
"Being able to learn how to properly produce content of an event that is unfolding live rather than something that is meticulously scripted and rehearsed, is a whole new experience that is exciting to cover," he said. "I am a huge sports fan as well, so the live production also gives me a peek behind-the-scenes on how major networks can cover some of my favorite teams and players in the moment."
Osborne said as esports grows, he hopes students, faculty and staff will keep finding ways to interact with it, from possibly making their own competitive games, animating Augustus or other characters, getting involved in Twitch streams or more motion graphics projects. He said it's going to be up to his students how they want to collaborate.
"If done right, esports will help build community by giving students a chance to celebrate their university," Osborne said. "Animation students are just a bunch of nerds making creative things. This helps us celebrate our nerdiness with something that's truly a community event."