After more than a year of renovations, Augusta University will host an official ribbon-cutting ceremony for the Robert B. Greenblatt, M.D. Library from 4:30-6:30 p.m. Wednesday, April 26.
The ceremony will mark the end of a $4.9 million renovation project that included a new main entrance to the library from Laney-Walker Boulevard, doubling the number of group study spaces on the second floor to 12, as well as creating a new one-stop shop for student support services. The project also saw construction crews creating the infrastructure for a future dining option for students, faculty and staff.
READ MORE: Augusta University invests in libraries to expand collections, student resources
"I am excited to see this project coming to a conclusion," said Brad Warren, dean of University Libraries. "This renovation project was a significant investment in both the Greenblatt library and the Health Sciences Campus. It will enhance the experiences of our students, researchers, faculty, staff and the community surrounding our campus. It also gives us new ways to communicate the history of the four health sciences colleges at Augusta University, the Greenblatt Library, as well as display works by our wonderful students."
The renovation project was divided into two phases, with the first phase dedicated to renovating the second floor of the library and the second phase focused on the enhancements to the first floor.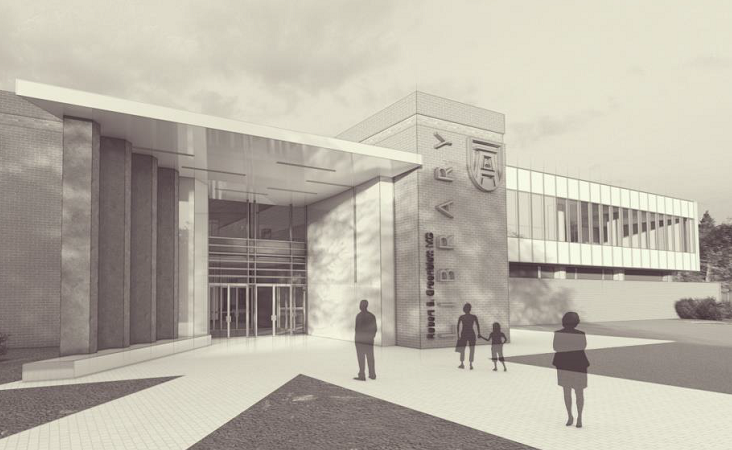 Part of the new look to the first floor includes permanent displays documenting nearly 200 years of the history of the campus featuring images and objects from the Library's Historical Collections and Archives, as well as exciting partnerships with the medical illustration program with a rotating display of works by recent graduates.
Warren wants to showcase some of the rich history of the health sciences at Augusta to connect current and future students and faculty to an institution with a richly documented and significant history. The Greenblatt library is an excellent place to display this history, as it houses the university archives and is open to the campus community and general public. Future traveling exhibits from the National Library of Medicine will also be displayed later in the summer into next year.
"What I'm trying to do is to raise the aesthetic of what's happening on the first floor. The second floor will remain quiet, but the first floor will be a vibrant gathering space where students, faculty and other employees want to hang out and interact with each other. That's what I'm trying to create down there."
Known as the Medical College of Georgia Library or MCG Library for more than 150 years, the library was officially renamed in 1988 as the Robert B. Greenblatt, M.D. Library. Greenblatt was an internationally known endocrinologist and professor emeritus of MGC who passed away in 1987.