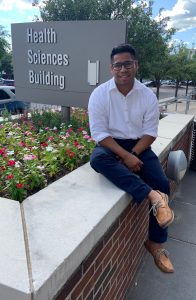 With a higher mortality rate than most other industrial jobs, farming is one of the most dangerous jobs in the United States, according to a recent U.S. Department of Labor report. But access to preventive screenings may reduce risks of illness and injury.
Since last summer, Augusta University student Humberto Garduno has been among the volunteers offering free personalized health screenings, education and services to farm workers in rural South Carolina.
As the son of Mexican immigrants and the first member of his family to go to college, Garduno knows firsthand the importance of bringing quality health care to underserved communities. So, as he balances being an EMT and a health services major in the university's College of Allied Sciences, Garduno is making time to serve again at this year's annual Costa Layman Health Fair on June 28 in Trenton, South Carolina.
"I remember my family's struggles, and having a chance to provide health care to an under-resourced group is one of the reasons why I enjoy volunteering at this health fair," said Garduno. "With most of the farm workers being Hispanic, I have such a deep connection with this event, and I always enjoy serving in various capacities, including being a translator or respiratory care."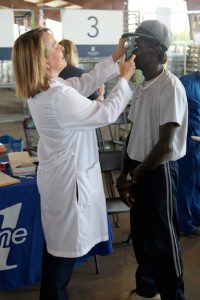 This annual health fair, hosted by the Augusta University College of Nursing, is expected to serve hundreds of farm workers this year. The employees will have access to bilingual health information and screenings, including lab work; skin, vision, dental, respiratory, blood pressure, HIV and bone density screenings; nutrition counseling; and occupational and physical therapy.
With his eyes set on medical school, Garduno says the event continues to fuel his passion for health care and he encourages other medical professionals to volunteer.
"If anyone is thinking about volunteering at the health fair, they really should do it," said Garduno. "I am sure it will be hot outside and you may even get tired, but the feeling of seeing people get the help they need is so rewarding."
In addition to students, faculty and alumni of the College of Nursing, screenings are supported by the university's Medical College of Georgia, Dental College of Georgia, College of Allied Health Sciences, Institute of Public and Preventative Health, the Ryan White Program, the Center for Undergraduate Research and Scholarship and Recruitment Divisions, as well as local community leaders and volunteers.
In 14 years, university students have provided more than 5,000 screenings. Learn more about the Costa Layman Health Fair and sign up to be a volunteer.