On Wednesday morning, Dr. Jasmine Locklin received the Medical Hero Award for her part in taking care of several passengers in a car accident during the eighth annual Real Heroes Breakfast hosted by the Augusta Area Chapter of the American Red Cross at First Baptist Church of Augusta.
The fourth-year radiology resident at the Medical College of Georgia was shocked when she found out about the award.
"I wasn't expecting it," Locklin said. "I am very grateful, and it was very sweet of them to nominate me and then also to award it to me."
Susan Everitt, executive director of the Augusta Area Chapter, said more than 300 people were in attendance to celebrate all of the honorees. Everitt said Locklin epitomized what it means to be a selfless and servant leader.
"Jasmine didn't have to stop her car. She could have easily driven on by, but she saw a need, she stopped and she helped save the lives of others," Everitt said.
Looking back on the events of July 16, 2018, Locklin says everything that happened was just being in the right place at the right time.
Locklin had just finished working a regular shift when she and some colleagues stuck around to help another resident with a workload that was beginning to pick up.
She left work in the rain and a few moments later, arrived upon an accident involving multiple cars with people who needed assistance.
"My original plan was to stick around and study before I went to the gym, which the class didn't start until 6:30," she said. "That's how I ended up on the road at that time."
Locklin said it was kind of an "oh shoot" moment when she arrived. But, with the help of some other people, she was able to assess each of the passengers' condition.
"There were others that were trying to direct traffic and looking for people that could help," she said. "But I did notice that there were no police or EMS that had arrived yet and I think it had literally just happened when I got there."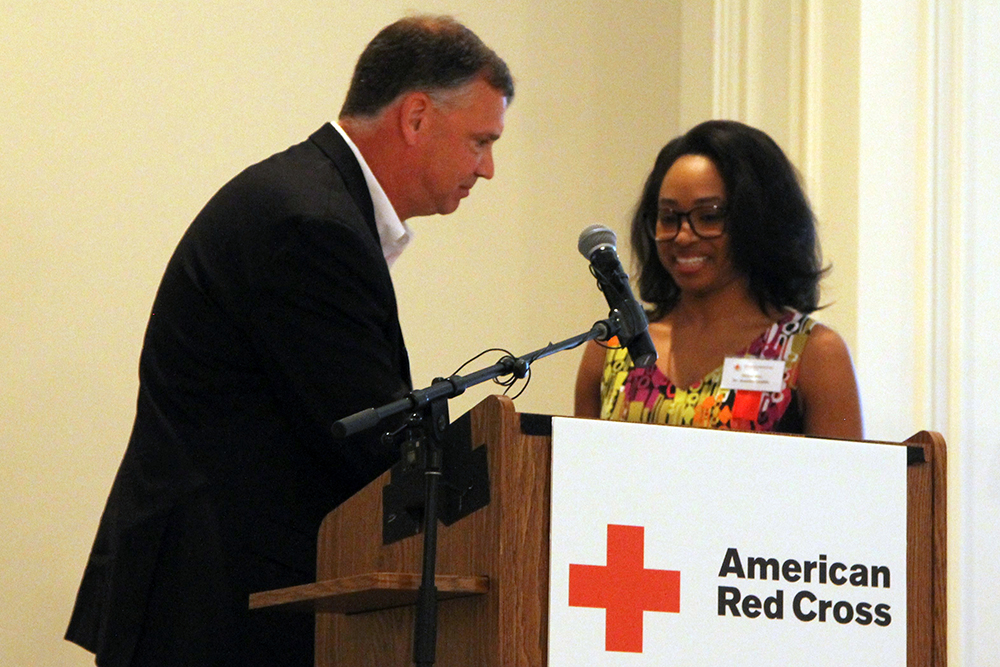 She went to the first car to see how they were and was eventually directed to the other car by somebody else because a person needed more help. She noted everyone's willingness to help after they discovered her medical background.
"Everybody was really eager to help. They asked me questions and I guided them in what to look for because the cars were so far apart. … It was a tricky situation for everybody because we were in the rain," Locklin said.
As for the patient she stayed with before he was transported to AUMC, Locklin said it was a good mix of her training and personality that was able to keep him from panicking.
"I am able to keep calm in tricky situations, and by my personality, I am a pretty easygoing person," she said. "But the training, it just doesn't really help to get everyone anxious. The best thing is to stay calm and help evaluate the situation optimally to make sure everything runs smoothly, especially in a situation like that where we don't have the normal resources that we're used to having."
In the early moments of Locklin helping him, the patient asked her to call his wife and family to let them know what had happened. Afterward, Locklin was able to check in with the family at different times over the course of his hospital stay. Their paths crossed again, this time with Locklin as the patient. One of his family members was the provider and she remembered Locklin and was able to thank her.
Her colleagues celebrated her efforts by presenting her an "Awesomeness Award" during a staff meeting. At the end of the day, she's grateful to be doing what she's doing.
"I am really happy to be doing what I'm doing," Locklin said. "I really like it the more I go along. I enjoy learning all of this information so I can apply it and help people. That's the whole reason I got into medicine. It's nice to be able to use my training in different ways.
"The way that I use my medical training is a little different than that of an emergency medicine doctor, who may have been more ideal for that particular situation. But because of my overall medical training, I was able to help a little bit, even if it was to provide comfort."