Alena Pfeifer, a senior biology major with a minor in art, recently presented her research findings at Valdosta State University during the 2022 Georgia Undergraduate Research Conference on the weekend of Nov. 11-12.
Pfeifer's presentation at GURC was funded by the Center for Undergraduate Research and Scholarship (CURS), whose mission is to support undergraduates in the pursuit of new information.
Pfeifer's research work began when Soma Mukhopadhyay, PhD, a senior anatomy and physiology lecturer, invited her to participate in a pilot study to create visual resources for students with color vision deficiency, also known as colorblindness.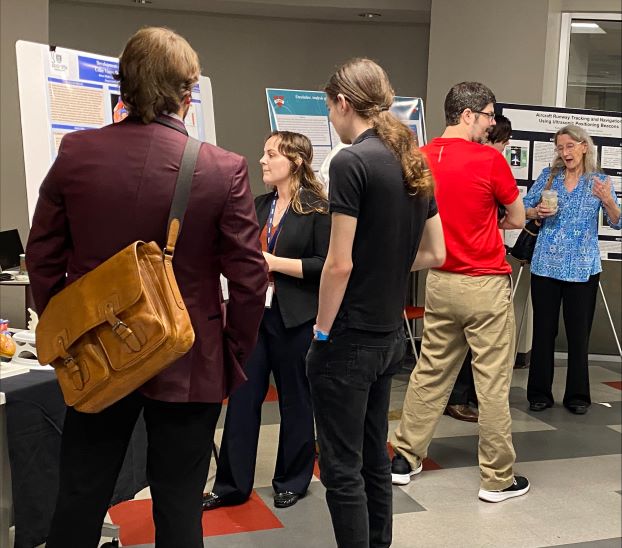 This research idea came to mind when Mukhopadhyay noticed the difficulty her students with color vision deficiency were having when reviewing standard cardiovascular models in her anatomy and physiology classes.
These anatomical models are what all students enrolled in anatomy and physiology courses use to visualize and learn about the cardiovascular system and other organ systems.
Conventionally, red and blue colors are used for anatomical models as they intend to help students understand and identify oxygen-rich and oxygen-deficient blood. However, these red and blue models are designed for people with full color vision, leaving a gap for those with color vision deficiency.
Mukhopadhyay's students with color vision deficiency were asked to participate in a pilot study to help address the issue.
Pfeifer, using her design skills, helped develop prototypes for 3D-printed heart models, which were created in collaboration with medical illustrator Lynsey Steinberg, staff member in the Center for Instructional Innovation, and Clara Oh, a graduate student in the medical illustration program.
Together, they developed anatomically correct models. Pfeifer, under the guidance of Mukhopadhyay, studied the genetic background of color vision deficiencies. That research helped them develop variations of color palettes to modify the color themes of the existing cardiovascular models. That is, these new anatomical models were designed to find a hue of red and blue that students with color deficiencies could identify and visualize.
Students were presented with two different color modifications and then, as a control, a "standard" color model like they would see in class. During the study, students could not decipher the structures in the standard model or the first color modification, but were able to understand the second color modification developed by the research team.
This pilot study gave the team some promising results, which were presented by Pfeifer at the 2022 GURC. Since the second color modification was successfully understood by the student participants, the researchers would like to recreate this study on a bigger scale.
The success of this pilot study creates the possibility of getting Institutional Review Board clearance. This would give the team clearance to conduct its research on a broader scale with more color vision-deficient participants.
"A lot of potential is lost if you're not inclusive," Pfeifer said. "If we all took a moment to understand how someone else may experience the world, I think we could make the world a truly better place."
Pfeifer believes in the importance of having proper accommodation for everyone, especially those who have disabilities that are not visible. The possibility of providing students with more inclusive learning resources inspires Pfeifer to continue working on her research.
Pfeifer credits Augusta University and its environment for her academic successes and opportunities.
"We have welcoming, accepting, and great mentors who will lead you step by step," said Pfeifer, referring to professors and mentors who had a hand in creating this research and presentation opportunity for her.
Pfeifer is a senior this year, and after her graduation, she plans to continue her education by attending graduate school. She will be applying to Augusta University's medical illustration graduate program. She has earned CURS's Research Distinction Award for her contribution to this research project.
---
Learn more about research at Augusta University.